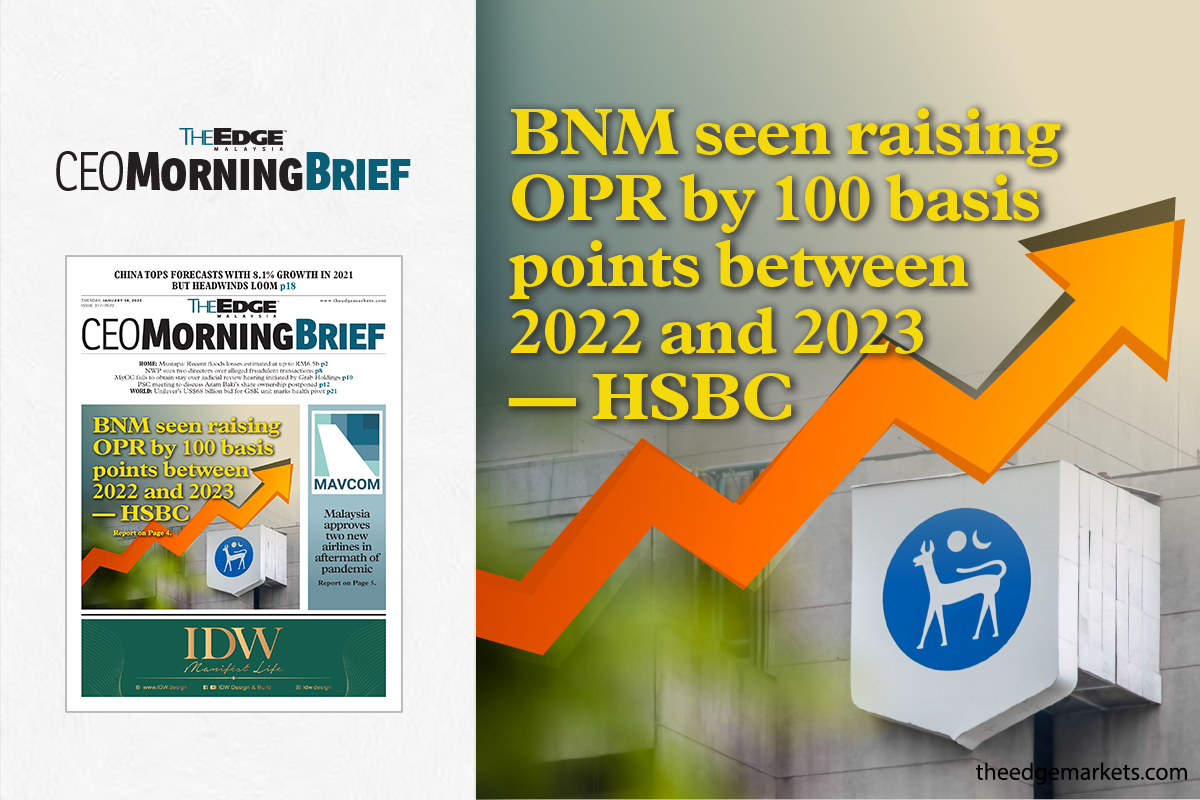 KUALA LUMPUR (Jan 17): HSBC said on Monday (Jan 17) Bank Negara Malaysia (BNM) is expected to hike the overnight policy rate (OPR) by 100 basis points between 2022 and 2023 in anticipation of Malaysia's firmer labour market and higher inflation and as Asia is seen registering stronger domestic demand as the world economy recovers from the impact of Covid-19-driven movement restrictions.
In a statement issued to reporters covering the HSBC Asian Outlook 2022 virtual briefing on Monday, HSBC said that as Malaysia's labour market strengthens, the country's core inflation, as measured by the consumer price index (CPI), may gradually trend higher to 2% by end of 2022, thus, allowing BNM to initiate a gradual monetary tightening process in the second half of 2022.
"We believe the Malaysian economy has one of the brighter outlooks in the region. We expect GDP (gross domestic product) growth to rise [to] 3.6% in 2021, before accelerating to 5.6% in 2022.
"Malaysia has one of the highest [Covid-19] vaccination rates in Asia, allowing a high degree of resilience. While [Covid-19-driven] restrictions may be reimposed, we believe the government will likely opt for highly targeted measures as opposed to lockdowns.
"The lockdowns appear to have created a substantial backlog that we believe will drive Malaysia's export growth well into 2022. While export growth may nonetheless slow from 2021, this will likely occur at a far more gradual pace compared to other regional economies," HSBC said.
The Monetary Policy Committee (MPC) of BNM during the MPC's final 2021 meeting on Nov 3, 2021 decided to maintain the OPR at 1.75% after taking into account that risks to Malaysia's economic growth outlook remained tilted to the downside on external and domestic factors amid lingering Covid-19 pandemic concerns and as the central bank expected the country's inflation to remain moderate.
The OPR at 1.75% is the lowest on record, according to BNM data, which dates back to 2004 on the central bank's website. The OPR has been maintained at 1.75% since July 7, 2020, when BNM cut the rate from 2%, according to BNM.
For 2020, Malaysia's economy, as measured by GDP, contracted 5.6%, BNM said.
At the HSBC Asian Outlook 2022 virtual briefing on Monday (Jan 17), Frederic Neumann, who is HSBC co-head of Asian Economics, said that for 2022, HSBC expects BNM to raise the OPR by 50 basis points on domestic demand recovery.
BNM is expected to hike interest rates because Asia is likely to experience one of the stronger domestic demand recoveries compared to other regions, according to Neumann.
"We think that on the investment side particularly foreign direct investment, Malaysia remains a key beneficiary of current trends. We think the export side will remain fairly well supported.
"And so there's a desire by BNM to start normalising interest rates again, relatively swiftly. And that's where the 50 basis point hike comes through," he said.
Meanwhile, Herald van der Linde, who is chief Asia equity strategist at HSBC, said funds will likely reduce their exposure to Malaysian equities in anticipation of rising interest rates.
"In contrast almost to a few of the other ASEAN markets, the situation in Malaysia is you have domestic interest rates rising [and] that's not positive.
"Most funds are already pretty overweight in Malaysia. So they can't really buy that much more if they wanted to," Linde said.
He said some of the funds will probably reduce their exposure to Malaysia equities and move their money to other ASEAN markets such as the Philippines and Indonesia.
"Growth in all markets is coming down because last year we had a large bounce in earnings growth. This is even more so in Malaysia," he said.
To receive CEO Morning Brief please click here.
Read also:
BNM expected to keep rates on hold, start tightening from 3Q
HSBC sees ringgit recovering in 2022