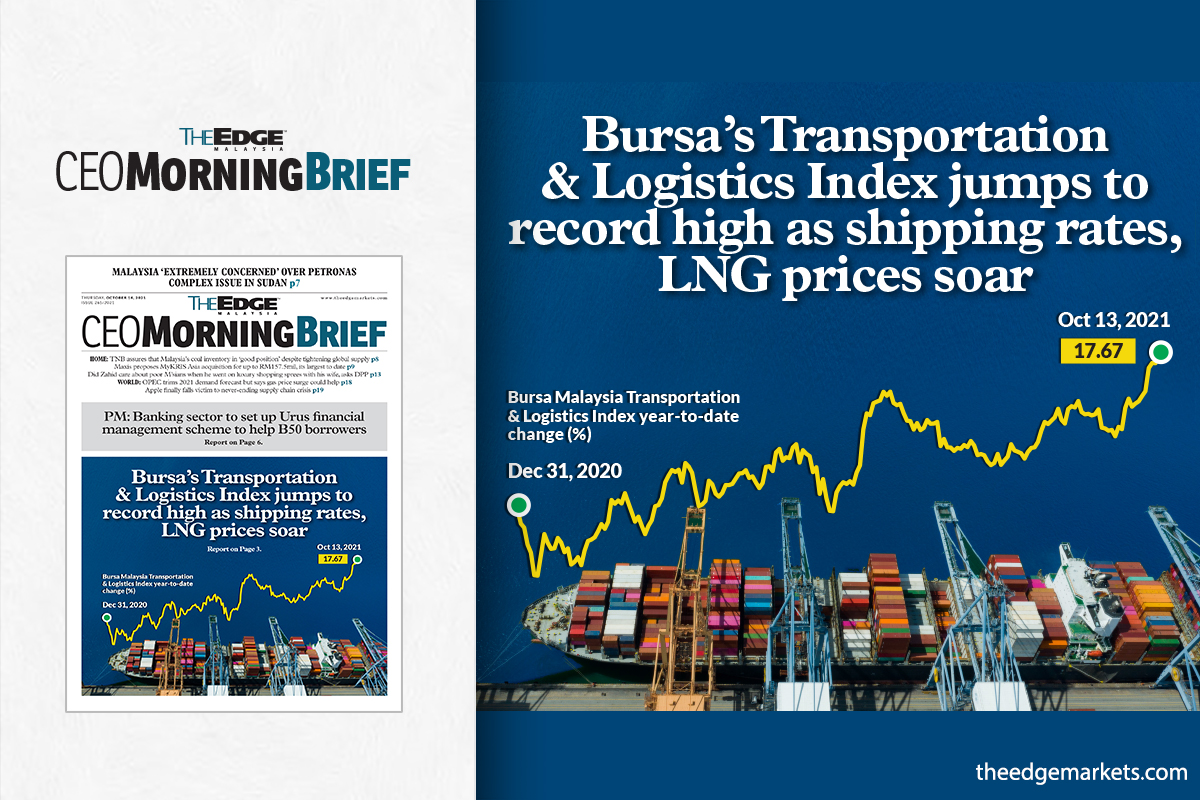 KUALA LUMPUR (Oct 13): Bursa Malaysia's Transportation & Logistics Index was lifted to a record high on Wednesday, as shipping container rates and energy prices, including liquefied natural gas prices, soared while economies around the world strive to recover from the pandemic amid lingering supply chain disruptions.
The index closed 7.78 points or 0.84% higher at 936.01 on Wednesday. It earlier rose 10.76 points or 1.16% to an intra-day high of 938.99. Year to date, the index has risen 17.67%. In contrast, the FBM KLCI has retreated 1.65%.
Petroliam Nasional Bhd's shipping arm, MISC Bhd, was among constituents that lifted the index, as it jumped as much as 28 sen to RM7.18 before settling at RM7.11 on market close for a gain 21 sen or 3.04% for the day, making it one of the top gainers of the local bourse.
MISC's LNG division, which accounted for almost half of its operating profit for the first half of 2021, is expected to benefit from a jump in freight rates to ship LNG, as demand surges for LNG amid a global energy crunch that is driving up the need for vessels to move supplies.
Other notable index constituent gainers were port operator Bintulu Port Holdings Bhd and logistics counters like Tasco Bhd and Freight Management Holdings Bhd that are riding the wave of rising container shipping rates.
Tasco gained as much as seven sen or 5.26% to an intraday high of RM1.40, before finishing the day at RM1.39. Year to date (YTD), the counter has surged 82.89%. Freight Management rose as much as nine sen or 8.49% to an intraday high of RM1.15, before closing at RM1.08. YTD, the counter had risen 129.79%.
While Drewry's composite World Container Index inched down by 2.2% to US$10,129.72 (about RM42,144.70) per 40ft container this week, it remained 289% higher than a year ago.
"If the rates are sustainable, then it will be very good for the logistics counters," said Rakuten Trade Sdn Bhd vice-president of equity research Thong Pak Leng when contacted.
He was also of the opinion that logistics stocks will benefit from the reopening of the economy. However, for him, the biggest challenge to the stocks is increasing transportation costs.
RHB: Tasco a top pick for logistics sector
In a note on Monday (Oct 11), RHB Investment Bank Research said Tasco was a top pick for the sector due to its growth potential and valuation, which was below that of its peers. The research house also raised its target price for the company to RM1.79 from RM1.75, as it anticipates Tasco to still book a robust quarter-on-quarter growth for the second quarter ended Sept 30, 2021 (2QFY22).
"Its strong performance should be buoyed by robust business operations and throughput, coupled with various growth avenues and potential rerating catalysts. Its undemanding below-peers valuation presents a good entry point into a renowned third-party logistics player with a solid international presence, to ride on the industry upcycle," the research house said.
Tracking Malaysia's stronger-than-expected August exports, it said, the potential pent-up demand post-economic reopening should boost the company's overall throughput for the contract logistics, land transport and cold supply chain businesses.
"As the majority of Tasco's clients are from the electrical and electronics industry, which has been driving the strong export growth this year, we expect volume growth to be well maintained," it said.
Despite the impact of the movement control order 3.0 on the company's 2QFY22 numbers, the research house said this should be manageable with an effective business continuity plan in place, and as logistics is deemed as an essential service.
The research house also noted that the already-major issue of container shortages was compounded by cargo congestion at US ports recently.
"This drove freight rates to yet another high, with the average price per TEU (twenty-foot equivalent unit) having surged by over four times in the past year," it said.
It also said the bottleneck prompted many customers to divert their shipments using urgent air forwarding, driving the throughput and rates.
Being in a global network across 595 locations in 47 countries under the Yusen Logistics group, the research house opined that Tasco's freight services come in handy to many customers, especially for those affected by the cargo bottleneck and who are urgently looking for alternatives.
With the domestic and international segments reporting strong operational numbers, coupled with Tasco's own sound investments, RHB Investment Bank Research said the company's near-term growth should be further boosted by major contract wins and its e-commerce portfolio expansion.
According to the research house, the group is also embarking on a long-term expansion road map, underpinned by capacity and fleet growth along with asset acquisitions.
"With its array of facilities and relevant certifications such as Good Distribution Practice and [being an] Authorised Economic Operator, Tasco aims to grow its retail trading and healthcare portfolio, while targeting to become a regional e-commerce hub and trans-shipment centre," it said.
Meanwhile, it noted that the group's next five-year capital expenditure cycle would have begun in 2QFY22 or 3QFY22, and investors can expect the low effective tax rate to lift its earnings growth.
"We also do not rule out the possibility of Tasco being classified as a syariah-compliant stock in November, as it fully met syariah screening criteria based on its FY21 annual audited numbers," the research house said.
In addition, it added that a couple of upcoming initial public offerings in the logistics sector and persistent sector tailwinds should encourage more investors to turn their sight towards this under-owned sector.
To receive CEO Morning Brief please click here.