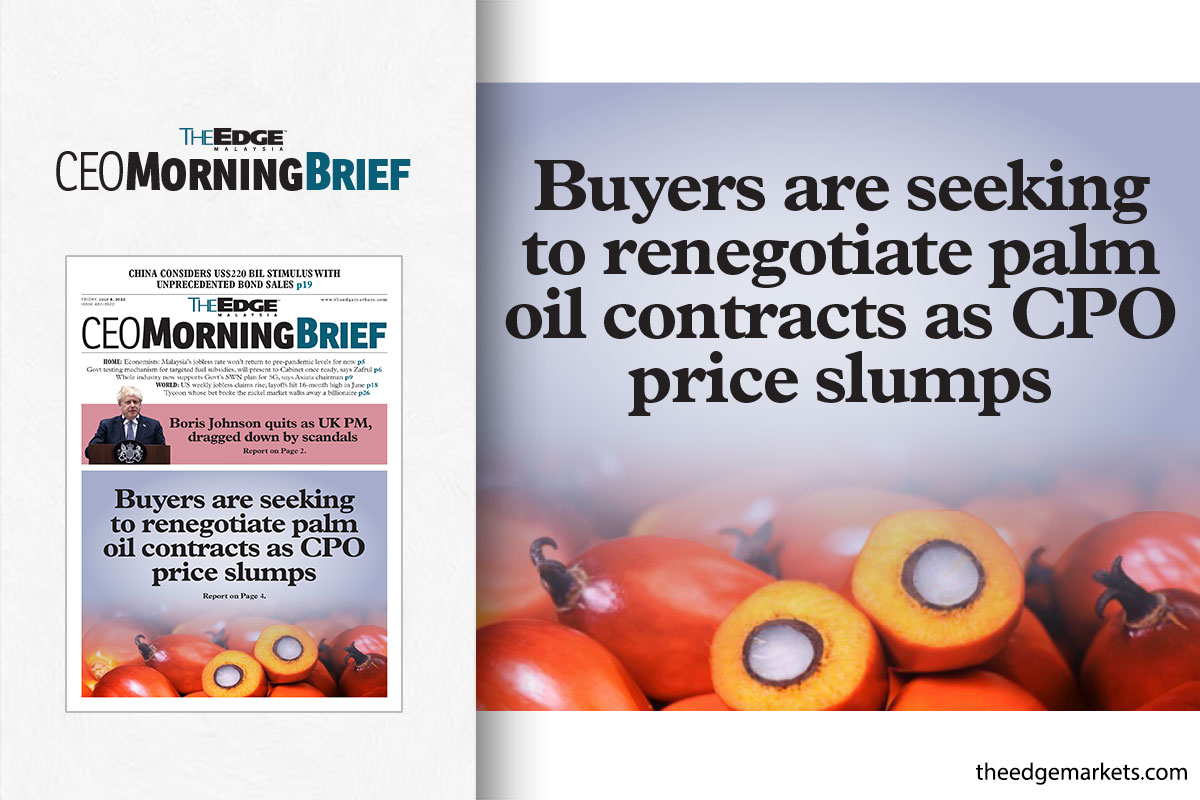 KUALA LUMPUR (July 7): The rapid fall in crude palm oil prices in the past month has prompted contract renegotiations between oil traders and buyers who are taking the deliveries now, as an increasing number of buyers declined to take delivery of the vegetable oil that were locked in previously at much higher prices.
Traders are unlikely to be able to sell the vegetable oil at anything above RM6,000 per tonne, according to traders who spoke to The Edge.
When contacted, Abdul Hameed, sales director of Manzoor Trading based in Lahore, Pakistan, said traders are facing "huge losses" amid the sharp drop in CPO prices, dragged by high palm oil inventory and the anticipation of lower demand ahead of a potential global recession.
"Traders are facing huge losses in Pakistan and India as well due to costly purchases of (CPO stocks at) near US$1,750 (per tonne) and now the market (value for the CPO futures contract) is near US$1,000," he said.
He said buyers are asking to replace their existing oil palm deliveries contract with new ones at lower prices.
With excess stock and the prospects of lower demand, he said the outlook for CPO prices looks bearish, signalling further weakness in CPO prices in the near future.
"There is a possibility that CPO prices could fall below the RM3,500 or RM3,000 level mark this month," he took to Twitter to share on Thursday, adding that the CPO price will remain weak until Indonesia's palm oil stocks fall to between four million and five million tonnes from as high as 8 million to 8.5 million tonne they were estimated to be at end-June.
"I don't think the situation will improve (anytime soon) due to good production, high inventories and slower demand," he said, highlighting also concerns about the peak production season for palm oil that has just begun.
CGS-CIMB, meanwhile, estimates that Malaysia's palm oil inventory would grow to a seven-month high of 1.68 million tonnes by end-June — up 10.5% from end-May and up 4.2% year-on-year — due to higher output and lower exports.
"The weaker Malaysian exports were due to higher palm oil exports from Indonesia after the lifting of its export ban on May 23, which shifted some palm oil demand to Indonesia from Malaysia," according to the research house in a note Tuesday.
It said the changes in export policy throughout the first half of the year might have led Indonesia's palm oil stocks to rise to as high as 8 million to 8.5 million tonnes at end-June (versus 3.6 million tonnes as at end-December 2021, and 6.1 million tonnes at end-April 2022).
"As such, we estimate Indonesia will need to speed up exports over the next few months to three million to 3.5 million tonnes/month to clear stocks ahead of the peak production season.  
"We are of the view that to clear the excess stockpile, Indonesia's palm producers will need to entice buyers by lowering CPO prices — causing local and international CPO prices to fall significantly in recent weeks. We think CPO prices could stay weak during the adjustment period and trade at larger discounts over competing edible oils until Indonesia's palm oil stocks fall to the four million to five million tonnes level," it added.
It should be noted that palm oil top producer Indonesia had on last Friday (July 1) announced a plan to increase its export quotas in an attempt to cut bloated domestic inventories. Previously, Indonesia imposed a three-week export ban starting from April 28 till May 23. It is understood that the temporary ban and various curbs on shipments caused local stockpiles to overflow and prices of fresh fruit bunches to crash.
Since Indonesia removed its export ban, CPO price for September delivery has fallen 35% or RM2,184 from its recent peak of RM6,324 on June 7, 2022, Bloomberg data showed. At press time on Thursday, the benchmark CPO price added RM85 to RM4,140 a tonne, from its previous close.