This article first appeared in The Edge Malaysia Weekly, on September 6, 2021 - September 12, 2021.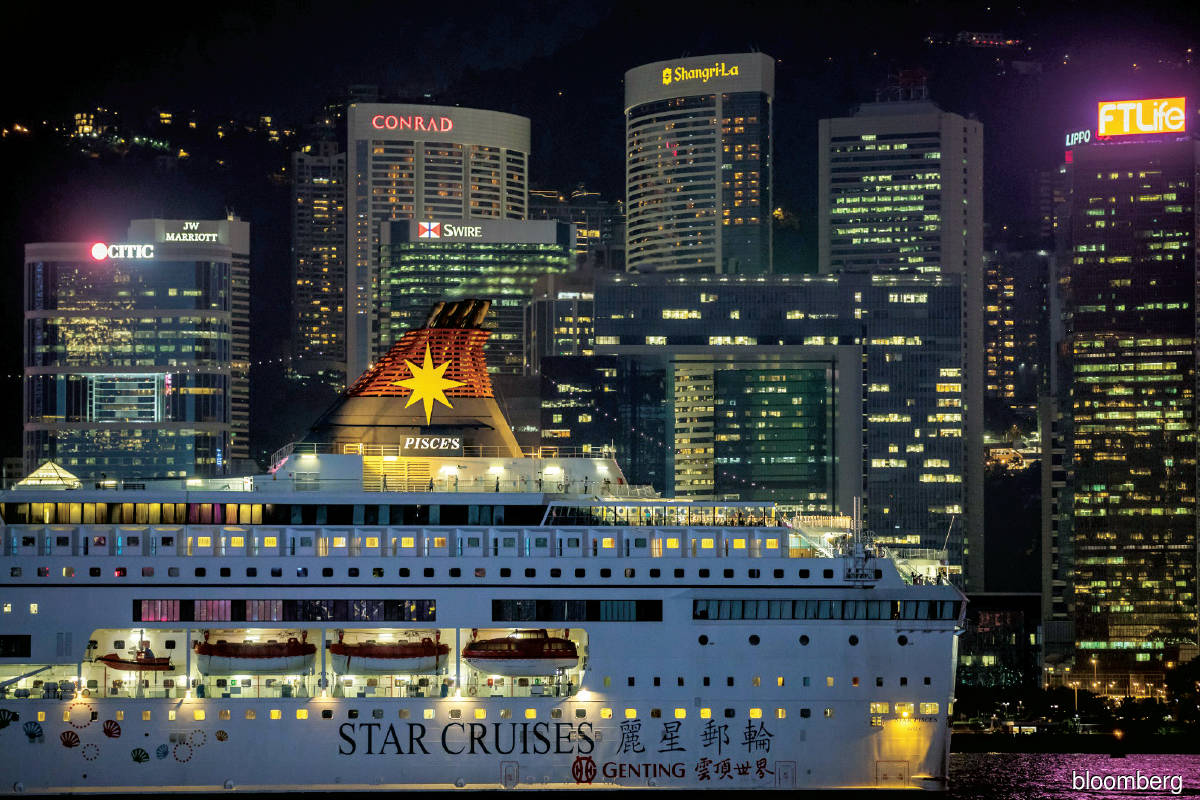 ALTHOUGH the capital-intensive cruise business is making a strong comeback in the US, there are doubts that the same will happen in Asia as well.
Carnival Corp, the biggest cruise operator in the world, has reported strong bookings for next year. The Miami-based company is said to be already operating more than 50% of its stable of 87 ships. Royal Caribbean Cruise and Norwegian Cruise Lines, which are the second- and third-largest cruise operators in the world, are also reporting strong forward bookings for next year.
The same cannot be said of Genting Hong Kong Ltd. Majority-owned by the Lim family of Genting group, it resumed cruise operations in July last year, beginning with the Explorer Dream in Taiwan. However, operations have not been smooth.
The Covid-19 Delta variant resulted in a scare in Singapore, a one-month delay to the start of its Hong Kong cruising operations to end-July this year and the suspension of Taiwan operations since May.
Genting Dream finally left Kai Tak Cruise Terminal in Hong Kong on July 30 and completed its first month of operations without any reports of outbreaks among passengers. Genting Hong Kong has received the green light from the Taiwan authorities to resume operations. The group's Crystal Cruises also resumed operations in July.
Unlike in the US and Europe, the cruise business in Asia is likely to take longer to recover due to the slower rate of vaccination and generally slower acceptance of the pandemic as endemic here.
Genting Hong Kong chairman and CEO Tan Sri Lim Kok Thay, who owns more than 75% of the company with his family, had stated in its latest annual report that the group was cautiously optimistic that the cruise industry would return to normalcy in 2023.
Among all the casino and resort operations that are controlled by the Lim family, Genting Hong Kong is the most vulnerable due to its high gearing of 114% and cash burn rate.
The pandemic caused the shutdown of all cruise operations from March last year. And although operations resumed in July 2020 in some countries in Asia, there were a lot more restrictions in terms of the number of passengers that the ships could accommodate.
Prior to the outbreak, Genting Hong Kong had enjoyed an occupancy rate of 93.3% as at end-2019. It was in a comfortable financial position.
A year later, the occupancy rate fell to 58.9%. The latest numbers for the first six months of this year show occupancy at more than 70%. The company has, however, stated that this cannot be used as a comparison as the figure is based on a reduced capacity that is allowed due to the pandemic.
The pandemic affected the group's cash flow and resulted in it being in default at the end of last year.
As at end-2020, its earnings before interest, tax, depreciation and amortisation (Ebitda) was negative US$385.8 million (RM1.6 billion) on substantially reduced revenues of US$356.8 million.
The numbers at the end of last year paled in comparison to end-December 2019 when Ebitda was US$142.5 million on revenues of US$1.6 billion.
Like all other cruise operators, Genting's cruise business is still experiencing substantial cash outflows.
For the first six months of this year, Genting Hong Kong recorded losses before interest, tax, depreciation and amortisation of US$171.2 million on revenues of US$182 million. During the period, it incurred a net operating cash outflow of US$160.2 million.
Last year, the group embarked on a major restructuring of its debt and capital commitments, a process that is nearing completion.
As at end-June, Genting Hong Kong's total borrowings stood at US$3.9 billion. It had capital commitments of US$1.1 billion and cash of US$453.4 million.
In May, the group announced a financial restructuring that involved the injection of new money, deferment of its debt obligations, additional funds to complete its ongoing vessel construction in shipyards in Germany and easing of requirements for it to meet the debt covenants.
The group obtained US$700 million in new money, mainly from the German government under its pandemic assistance programme, for its shipyards in Germany. The funds were earmarked for the completion of two vessels, one of which has since been completed and handed over.
On its borrowings, the maturity of a sum of US$981 million was extended to July 31, 2026, and there is a suspension of the financing payment of US$1.5 billion related to its fleet of existing cruise ships to June 2023.
In a nutshell, the earliest the company will start repayment of its financial obligations is June 2023.
By then, the cruise business would need to be back to pre-pandemic levels or the group will have to look at other options. One is to sell its vessels, something many cruise operators have done, while another is having its shareholders put in more money.