This article first appeared in The Edge Malaysia Weekly, on September 6, 2021 - September 12, 2021.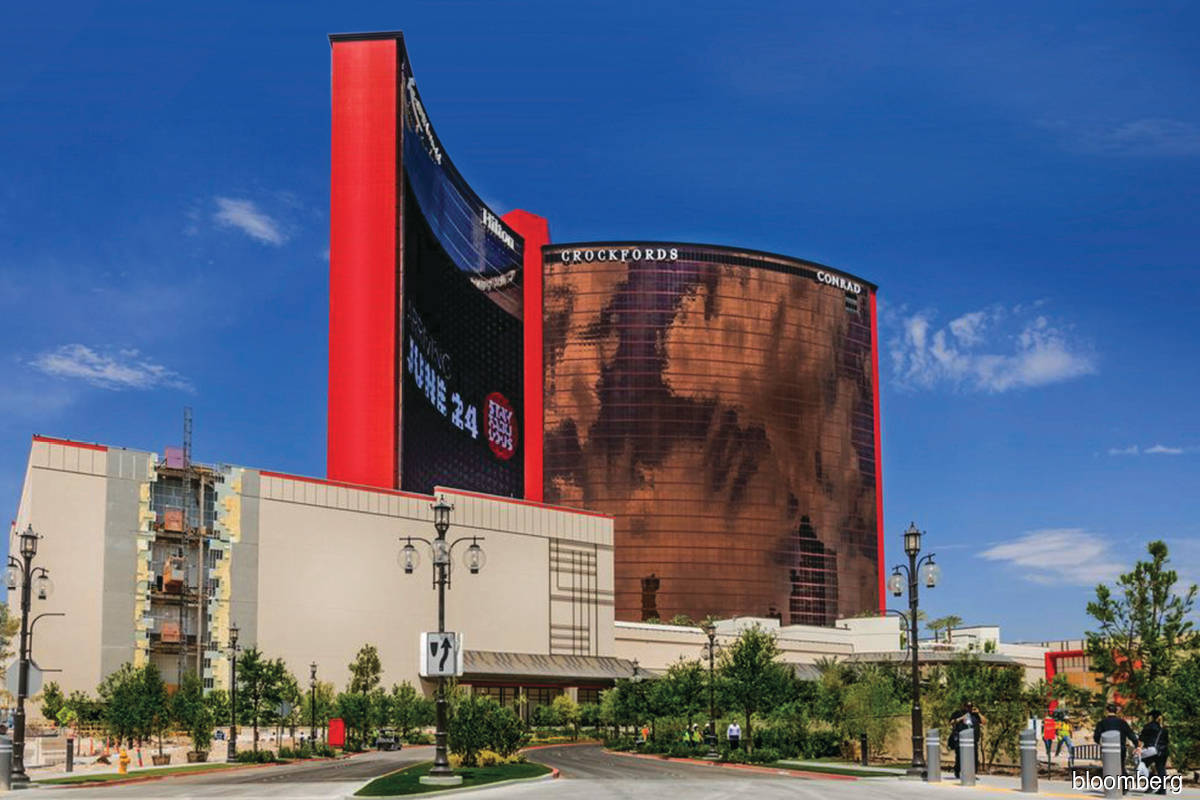 THE Genting group was at the peak of an expansion cycle when the Covid-19 pandemic broke out. The group's mainstay — Genting Bhd (Genting) — was in the midst of constructing a US$4.3 billion (RM17.9 billion) resort and casino in Las Vegas.
Its 49.5% associate, Genting Malaysia Bhd, was completing a US$800 million (RM3.3 billion) new outdoor theme park in Genting Highlands and a 400-room hotel in New York. In Singapore, Resorts World Sentosa, which is under Genting Singapore Ltd, was undertaking a mega expansion of some S$4.5 billion (RM13.9 billion) called RWS 2.0.
It was the worst of times for Genting group chairman and CEO Tan Sri Lim Kok Thay. In an unprecedented turn of events, the group's casino, entertainment and resort operations, from the US to the UK and Hong Kong, were forced to cease operations starting March last year owing to the pandemic.
By end-2019, Genting had already spent US$1.9 billion and needed to raise at least another US$2 billion to complete the most expensive casino and resort in Las Vegas.
Resorts World Las Vegas (RWLV) is a project that is very important to Lim. It showcases Genting's presence at the heart of the US' gambling centre. It allows the group to compete against other heavyweights in the business such as MGM Resorts International, Wynn Resorts Ltd, Caesars Entertainment Corp and Apollo Global Management Inc.
Genting, which normally enjoys a strong cash flow, saw its funnel of money suddenly shrink drastically from March last year. Its financial metrics also deteriorated, resulting in a downgrade by analysts and rating agencies.
Genting's earnings before interest, taxes, depreciation and amortisation (Ebitda) fell to RM630 million for the first half ended June 2020 compared with RM4.1 billion in the corresponding period in 2019. Its borrowings had risen to RM39.2 billion compared with RM32.1 billion previously, while cash and cash equivalents were at RM32.5 billion.
For the whole of last year, Genting's Ebitda was a mere RM2.9 billion compared with RM7.8 billion in 2019 and RM8.1 billion in 2018.
The significant fall in cash flow did not stop the group from refinancing its debts, raising new money and completing RWLV. On June 24 this year, RWLV opened its doors to customers. And almost immediately, Lim began to explore the listing of the group's US operations on the New York Stock Exchange.
He was reported to have said that the numbers in the first 30 days after opening would give the group a better timeline on the listing.
In the six days after its opening, RWLV drew an estimated 20,000 visitors and 5,000 VIP guests, while its hotel occupancy averaged 71.2%. The Las Vegas operations chalked up revenues of US$14.9 million and contributed Ebitda of US$3.9 million to Genting.
This means RWLV drew an average of about RM2.6 million in Ebitda per day for the first six days after its opening. But can it continue to be a crowd puller in the highly competitive Las Vegas market?
RWLV listing beckons
It is easy to understand why Lim wants to list Genting's US operations. It is sitting on debts of just over RM40 billion and a listing should enhance its balance sheet.
Whether the listing will include Genting group's other gaming operations in the US is not clear.
The group's main asset in the US is RWLV, which is directly owned by Genting. Through Genting Malaysia, Genting controls Resorts World New York LLC (RWNYC) and has a 49% stake in Resorts World Catskills. The group is also reported to have a piece of land in Miami.
RWNYC completed the building of a 400-room hotel costing some US$400 million last month. The hotel-cum-entertainment property, which is located near JFK International Airport, offers 6,500 slot machines and electronic table games, and is touted as one of the largest gaming facilities at a single site.
The group did not answer questions from The Edge on Genting's impending listing in New York.
Nevertheless, the opening of RWLV has improved sentiment on Genting and its group of companies.
S&P Global associate director (Corporate Rating Asia Pacific) Shawn Park says the factors that have contributed to confidence in the group is the view that its Ebitda will improve, there will be no more large capital investments, and there will be new earnings contribution from Las Vegas.
"Genting has gone through its peak investment cycle. We expect the investment to be halved in the coming years and RWLV to provide a new earnings stream for the group,' says Park.
The potential listing of RWLV will have a twofold impact on the group, he adds.
"Firstly, should the proceeds from the listing be used to deleverage, it would be credit positive for the Genting group's (that is, Genting Bhd's) financials. However, second, with the IPO and depending on the ownership structure, S&P could review the group status of the US assets.
"For example, we currently rate RWLV one notch below Genting based on [its] 'highly strategic' group status. If the IPO results in a weaker group linkage, we could revisit our method of rating RWLV, based on a different group status," says Park in an email reply to The Edge.
Nevertheless, he adds that based on the company's guidance and also its estimates, internal cash generation by RWLV should leave some cash available to pay down its debts.
"But it would ultimately depend on the group's strategy and leverage targets."
US-based brokerage Sanford C Bernstein had estimated that RWLV would be able to generate Ebitda of at least US$250 million, and up to the "high US$300 millions" annually, once the business is built up.
But not all casino and entertainment companies view Las Vegas as a crucial gambling centre.
Las Vegas Sands Corp, the biggest casino and convention centre operator with operations in Singapore and Macau, exited Las Vegas in March this year. It disposed of its two Las Vegas hotels, the Venetian and ­Palazzo, the Sands Expo Convention Centre and other real estate to a group that has Apollo Management as a partner, for US$6.25 billion.
Founded by the late Sheldon Adelson, Las Vegas Sands plans to put more money in its casino, convention and entertainment operations in Macau and Singapore as well as eyeing new opportunities in New York.
The reason is because the US-based casino group enjoys better returns from its investments in Asia than on The Strip.
Worst period over
Genting continued to chalk up losses on the back of a prolonged lockdown, especially in Malaysia, and slower-than-expected recovery in Singapore and the UK.
For the first six months this year, the group posted a loss of RM895.3 million on revenues of RM5.2 billion. Ebitda was RM1.5 billion, which is a vast improvement over the RM630 million recorded at the end of June last year.
But its debts have exceeded RM40 billion while its cash position is down to RM23.2 billion compared with RM32.4 billion during the same period last year.
S&P Global had downgraded Genting's rating but with a stable outlook.  The rating agency expects Genting's Ebitda to return to pre-pandemic levels in 2023 and not next year, as many had expected. Hence, it appears that Genting's debt-to-Ebitda ratio will remain well above three times, warranting a lower rating but with a stable outlook for now.
CGS-CIMB in a recent research note also revised its earlier projection of Genting returning to profitability this year. It expects the group to be profitable next year with improved cash flows and believes downside risks are a worsening lockdown and if RWLV chalks up a loss.
The biggest investment for the group in the next few years is the expansion of Resorts World Sentosa, which is expected to cost S$4.5 billion. But Genting Singapore has adequate cash balances to finance the capital expenditure.
Genting Singapore is also eyeing opportunities in Japan. That move, however, is likely to be on hold for now because of a change in political direction in Yokohama.
An anti-gambling candidate won the elections in the city, which had invited casino operators to submit their proposals to build a casino and resort last year. Genting Singapore is one of the two that submitted plans.
Genting's capital expansion is expected to drop to less than RM4 billion in the next two years compared with RM8 billion this year, according to S&P Global. The continued opening up of the economy should improve its debt-to-Ebitda ratio, which is now estimated at more than 5.5 times.
More importantly, it does not look like Genting will be making a cash call from its shareholders.
Compared with Asia, the US and UK are opening up at a faster rate. On this score, the launch of RWLV could not have come at a better time. The question is how big an impact the US$4.3 billion investment will have on the group's cash flow and deleveraging efforts.