This article first appeared in The Edge Malaysia Weekly, on September 12, 2022 - September 18, 2022.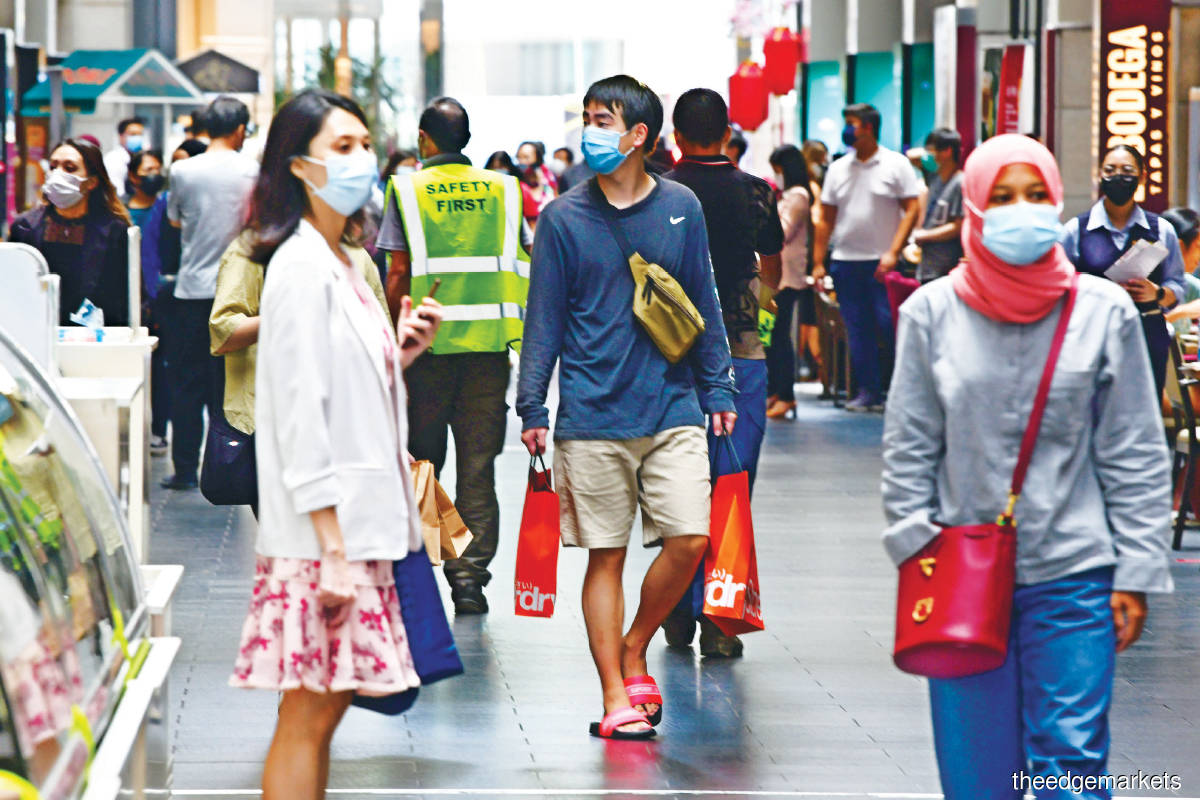 FASHION and fashion accessories retail chain operator Bonia Corp Bhd is confident that its performance in 2022 will end on a high note. Its chief financial officer Tony Wong says the group's performance is already back at levels it achieved in 2019 prior to the pandemic.
"We are witnessing steep growth across all our brands [this year]," Wong tells The Edge, attributing the surge to the relaxation of the movement control orders and a boost from Chinese New Year and Hari Raya shoppers. In the first half of this year, revenue for the retailer has already increased by 65%, and net profit has "grown significantly" compared to the corresponding period of 2021.
And there are no signs of a slowdown, as sales for July and August have been equally robust. Bonia Corp operates 60 standalone stores and 270 consignment counters all over the country.
Wong highlights that while customers of brands under Bonia Corp are mostly from the mid- to upper-income category, it also draws shoppers from the lower-income group, particularly at its factory outlet stores. He believes that the worst is over and that the group can look forward to a better 2023.
However, TPF Retail Sdn Bhd's group executive director Ivan Tan says his chain of premium supermarkets (Village Grocer, Ben's Independent Grocer), along with another brand that caters to the masses (Pasaraya OTK) are experiencing a contraction.
"Compared to last year, sales in 1Q and 2Q this year have contracted depending on the location, averaging at about -6%," Ivan says. The stores catering to the budget-conscious, including the B40 segment, are contracting at an average of 15%.
"The grocery business is also expected to be soft in the third quarter amid concerns of slowing economic growth, surging inflation, higher interest rates and other uncertainties,' Ivan adds. Nevertheless, TPF Retail is hopeful of a better performance in 4Q2022 as it is traditionally a strong quarter for retail sales, fuelled by holiday and Christmas shoppers.
These two retail segments indicate the shift in consumer trends now that the movement restrictions have been lifted.
The performance of these retail categories is also reflected in the Malaysia Retail Industry Report published this month by Retail Group Malaysia (RGM). Data shows that the fashion and fashion accessories segment has seen two solid quarters and is poised to post another strong quarter, expanding by a whopping 165.1% in 3Q2022. Similarly, the personal care subsector (skincare and cosmetic products) is doing well (see table).
"Now that consumers are back at physical stores, the retailers have begun to enjoy strong double-digit recovery," RGM's managing director Tan Hai Hsin tells The Edge.
On the other hand, the hypermarket and supermarket category is estimated to contract by 2.6% in the July to September period. This segment also shrank in 1Q2022. Hai Hsin says that in 2020 and 2021, many consumers frequented grocers as they often cooked at home, and some even started selling food from home. With a majority of consumers resuming their pre-pandemic daily routine and eating out more often, grocery operators are experiencing a decline in sales.
Overall, retail sales rose 62.5% year on year from April to June 2022 — the highest quarterly growth recorded — setting the stage for the industry to recover any dips and losses sustained during the pandemic. RGM tabulates quarterly retail reports on behalf of the Malaysian Retailers Association (MRA) and the Malaysia Retail Chain Association, whose members operate 40,000 stores nationwide.
Following the explosive 2Q2022 sales growth, coupled with yet another sturdy growth estimate of 61.7% for the July to September period, RGM has revised full-year retail sales growth to 31.7%, from 13.1% earlier this year.
At 31.7% growth, Hai Hsin says retail sales value for the year would amount to RM116.3 billion. RGM's data does not include big-ticket items like cars and houses. It also does not include retail sales from provision shops, sundry shops, wet markets, morning markets, night markets, stalls, carts, street hawkers, temporary stalls, peddlers, direct sales and pure-play online shopping platforms.
Not revenge shopping
What do these growth figures mean for the industry? Up until early this year, Hai Hsin had projected that Malaysia's retail industry would recover to its 2019 sales level only in 2024.
"The strong recovery in the first six months of this year as well as high expectations for the third quarter will bring forward full recovery. By the end of 2022, Malaysia's retail industry will recover to the 2019 sales level," he predicts.
Using the second-quarter retail growth in 2020 (down 30.9%), 2021 (up 3.4%) and 2022 (up 62.5%) as examples, he explains, "Assuming second-quarter sales in 2019 were RM100, in 2020, sales would have dropped to RM69.10; in 2021, sales would have increased slightly to RM71.45. Then in 2022, sales jumped to RM116.11. When compared to 2019, sales during the second quarter would have grown by RM16.11 or 16.1%." This signals that the retail sector has rebounded to levels above 2019.
However, Hai Hsin is quick to point out that the higher sales achieved during the first six months do not necessarily indicate revenge shopping. According to him, consumers have gone back to the way they used to shop and the amount they used to spend — catching up from where they left off in 2019, so to speak.
"Revenge shopping would be: I used to buy five pieces of clothing each year, and after two years of lockdown, I am now buying 15 pieces this year.  This didn't really happen. I am still buying five pieces of clothing this year," he explains.
Is the growth momentum sustainable?
Even as the outlook for the industry as a whole remains positive moving forward, Hai Hsin does not think that the momentum is sustainable. "These high growth rates in 2022 are considered one-off occurrences. They will never happen again unless shops are forced to close in the future for an extended period of time."
It is worth noting that the Employees Provident Fund provided a special withdrawal facility of up to RM10,000 per person for members from their savings to help tide them over the effects of Covid-19. An estimated RM40 billion was withdrawn in April under this scheme. Hai Hsin says this money has already been spent, whether to reduce debt, make new investments or on retail.
On the additional annual salary increment of RM100 and special financial assistance of RM700 for civil servants in 2023, Hai Hsin says the contribution to the total retail industry will not be significant. With no more government handouts, Malaysians will have to solely depend on their take-home salary for shopping.
Last Thursday, Bank Negara Malaysia raised the overnight policy rate (OPR) by 25 basis points to 2.5%. Hai Hsin says typically, whenever the OPR is raised, the impact on consumer spending is immediate, because commitments such as home loan repayments increase. "A higher interest rate means higher cost of borrowing. This will affect sales of high-value added goods (cars, furniture, home appliances, branded handphones, computers and so on). Having less money to spend, Malaysian consumers may delay buying these items or opt for cheaper alternatives."
As it stands, retailers have to deal with the higher cost of operations as a result of higher prices from suppliers, importers, distributors and wholesalers. A weaker ringgit against the US dollar, for example, has led to higher import costs for raw materials and semi-finished goods used to make end-consumer products in Malaysia. This, in turn, has resulted in higher prices of imported finished goods. Coupled with labour shortage and higher minimum wage, the increase in the prices of goods is likely to put pressure on consumer spending.
The higher cost of operations, Hai Hsin says, will reduce or eliminate profits made by retailers, while lower sales due to slowing consumer spending mean there may be more store closures in the near future, with chain retailers opting to consolidate their stores.
The combination of a technical recession in the US, energy crisis in European countries and China's slow recovery due to its strict Covid-19 policy is expected to have an impact on Malaysia's economy. Hai Hsin anticipates a slowdown in the fourth quarter of this year and into the first half of next year.
As for the labour shortage issue, it is not just about higher wages. He says some retailers are addressing the problem by letting fewer staff attend to customers, which can affect the quality of service, while other stores are opting for shorter operating hours and more rest days a week. All these will have an impact on sales.
Hai Hsin projects retail sales to expand by 3.5% next year, translating into RM120.3 billion in sales. The next revision will be made in November, following the next quarterly report.
On whether the reintroduction of the Goods and Services Tax (GST) could discourage consumer shopping, he believes that the impact will be minimal this time around. Malaysians have already had to contend with GST and the Sales and Service Tax (SST) previously, thus, the surprises and uncertainties will be minimal.
Any change in retail prices due to the re-introduction of GST will also be insignificant, he adds. "Malaysian retailers have already gone through the implementation of GST and SST in the past. There will be little reason for them to increase the prices of goods and services."
Impact of retail rebound on malls
Hai Hsin observes there has been an uptick in shopper traffic in malls and commercial centres, particularly on weekends. "What is not obvious now is whether the traffic is directly translating into higher sales. Are consumers really spending more?" he asks.
At least one mall owner and operator contacted by The Edge says that the shoppers are back, and the impact has been positive.
Sunway Malls & Theme Parks CEO H C Chan tells The Edge that Sunway Malls is recovering well in terms of occupancy, footfall and sales. On average, the occupancy at all seven of its malls stands at 97%.
"In terms of footfall at Sunway Malls, it has normalised to between 100% and 120% compared to pre-pandemic [levels] on the back of the economic sectors reopening and endemicity. In terms of sales recovery, Sunway Malls is seeing resilient and sustained momentum.
"Sunway Malls' sales recovery trajectory started in 4Q2021 when we achieved 100% against 4Q2019 — our historical high," Chan says, adding that recovery momentum has remained robust. "This year, Sunway Malls expects performance will exceed the pre-pandemic level with a 110% increase over 2019."
But he adds, "Inflationary pressure remains a concern, much exacerbated not only by the global supply chain disruption but a seemingly protracted geopolitical conflict with the Russia-Ukraine war."
Moreover, the discontinuation of RM80 billion in subsidies this year will be material. Should the targeted fuel subsidy be implemented, that too will weigh on consumer purchasing power and consumer sentiment.
Still, Sunway Malls remains cautiously optimistic on the back of its resilient trade mix. The resilience is due to the entry of stronger brands to replace ailing brands, while a higher occupancy rate of 97% will enable the momentum to be sustained.
Local tourism and related industries receive boost too
By Cheryl Poo
Besides the retail sector, domestic tourism has also benefited from the spike in locals vacationing within the country after the lifting of restrictions earlier this year, hotel associations say.
"Even with the reopening of Malaysia's borders, locals are finding that overseas travel is not as accessible as it once was due to higher airfares, now compounded by the weak ringgit amid high inflation," Malaysian Association of Hotels (MAH) president Christina Toh tells The Edge.
"[Travelling and spending locally] have been a boon for the hotel industry and related sectors, which have been focused on strengthening their operations and re-establishing revenue streams after more than two years of coronavirus disruptions. Regionally, Asean is gaining traction in terms of arrivals as business events and travel activities are building up," she explains, adding that the hotel industry, which suffered from a shortage of manpower when the economy reopened, is finally seeing a better response to vacancies.
"This is good as the tourism sector has, since August, been seeing an increase in tourist arrivals," she says.
Toh's observations are echoed by Malaysian Association of Hotel Owners (MAHO) executive director Shaharuddin M Saaid, who says that lingering concerns of catching Covid-19 and the new outbreak of the monkeypox virus are prompting vacation seekers to travel closer to home instead.
Toh and Shaharuddin note that festive events organised by shopping malls and theme parks have also enlivened the economy.
"The tourism ministry, hotel associations and players have been promoting excursions to local attractions such as museums, botanical gardens and Karyaneka [a marketplace for traditional arts and craft in Kuala Lumpur]. We are also promoting lesser-known attractions such as Batu Gajah, Parit and Lumut in Perak. These are remote areas with springs and waterfalls that are less frequented compared with popular destinations like Melaka and Penang," Shaharuddin says.
Among the local campaigns being promoted by the hotel associations and Tourism Malaysia is a RM100 Shopee voucher that can be used at participating hotels.
The promotion — which started on July 15 and will run till Dec 31 — has generated RM3.12 million in income for sellers in the July 15 to Aug 31 period, Shaharuddin says, adding that local players are encouraged to hold such campaigns.
The latest available data compiled by MAHO, from 2019, provides some perspective on local spend before the pandemic. That year, domestic tourism expenditure was higher than inbound or outbound spend, with RM103.2 billion in tourism receipts going to shopping (37.8%), automotive fuel (15%), food and beverage (14.3%), visited households (10.2%), accommodation (8.4%), transportation (6.2%), other activities (5%), and entrance fees, tickets or packages (3.1%).
"The fact that RM15.6 billion was spent on petrol or diesel showed that the overwhelming number of domestic visitors drive their own vehicles. We are still banking on domestic travel [to uplift the industry]," Shaharuddin says.
The Tourism Malaysia website shows that the nation registered 26.1 million arrivals and RM86.1 billion in receipts in 2019. Arrivals plunged to 4.33 million in 2020 and just 130,000 in 2021, with tourism receipts falling to RM12.7 billion and RM240 million in the respective periods.
With the reopening of the nation's borders in April after two years of closure, however, the Tourism, Arts and Culture Ministry is hopeful that international arrivals will increase.
Its minister Datuk Seri Nancy Shukri reportedly said in June that Malaysia's 2022 target of two million incoming tourist arrivals was surpassed that month. Over the next two months, the ministry first revised the target to 4.5 million arrivals with RM8.6 billion in tourism receipts, and subsequently, to 9.2 million arrivals and RM26.8 billion in tourist receipts.
Nancy said the revisions were made possible by vigorous initiatives and incentives as well as the arrival of delegates through business events and easing of restrictions for inbound visitors.
Meanwhile, data from vacation rental platform Airbnb reveals that Ipoh, Kuah, Semenyih and Port Dickson were the trending Airbnb search destinations for long-term stays (longer than 28 days) in the second quarter. Searches on Airbnb for Marang, Terengganu, [for instance], almost doubled in the second quarter from the same pre-pandemic period in 2019, it says.
"Across the region, this has presented fresh opportunities for locals looking to supplement their income as they grapple with the rising cost of living. Notably, typical earnings for non-urban hosts in Malaysia have grown by approximately a third," the platform's head of public policy for Southeast Asia, India, Hong Kong and Taiwan, Mich Goh, says in a statement.
Goh adds that its recently commissioned survey by ClearPath Strategies — conducted among 1,020 Malaysians from Dec 23, 2021 to Jan 14 — showed that over two-thirds of respondents agreed that hosting creates an economic boost in neighbourhoods, with 62% believing that it not only brings benefits to hosts but also businesses in the community.
"More than two years since the start of the pandemic, we continue to see fundamental shifts in travel that are creating new opportunities for communities that lie off the beaten track," she says.
Meanwhile, the hotel associations observe that luxury hotels and resorts as well as luxury retail players are receiving higher numbers of wealthy patrons who are wary of travelling abroad.
"From the global travel industry's forecast, 2024 is seen as the year of normalisation. This trend of staycations will remain strong for another year or so as the Malaysian travel industry fights to get back on its feet," Toh remarks.