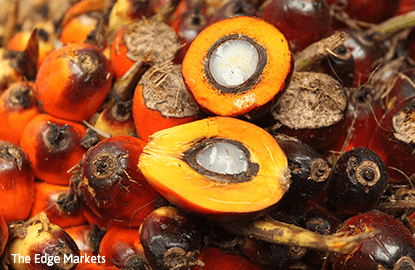 KUALA LUMPUR (March 9): Crude palm oil (CPO) prices are expected to recover up to RM3,000 a tonne this year, as adverse weather hurt world oil palm output, according to experts and analysts at the Palm and Lauric Oils Conference and Exhibition today.
Oil World executive director Thomas Mielke said CPO was expected to trade at between RM2,700 and RM3,000 a tonne, until June this year.
"2016 will be the first year when we will see a reduction in global stocks of oils and fats, after the continual growth recorded in recent years," Mielke said.
At 12:30pm today, Malaysian CPO for May 2016 rose RM23 to settle at RM2,551 a tonne, Bloomberg data showed.
 
Mielke said Malaysia's CPO production was anticipated to decline to 19.7 million tonnes this year, from 19.96 million tonnes last year. Indonesia's CPO production is seen declining to 33 million tonnes, from 33.4 million tonnes, according to him.
CIMB Investment Bank Bhd analyst Ivy Ng said CPO prices were expected to be firm in the first quarter of 2016.
Ng said the commodity could trade up to RM2,700 a tonne on slower palm oil output growth, as the El Nino weather phenomenon affects oil palm production.
She said Indonesia's plan to implement its higher B20 biodiesel mandate, could also support CPO prices.
"We expect the 2016 average CPO price to increase by 14% to RM2,450 per tonne, driven by slower palm oil output growth," she said.