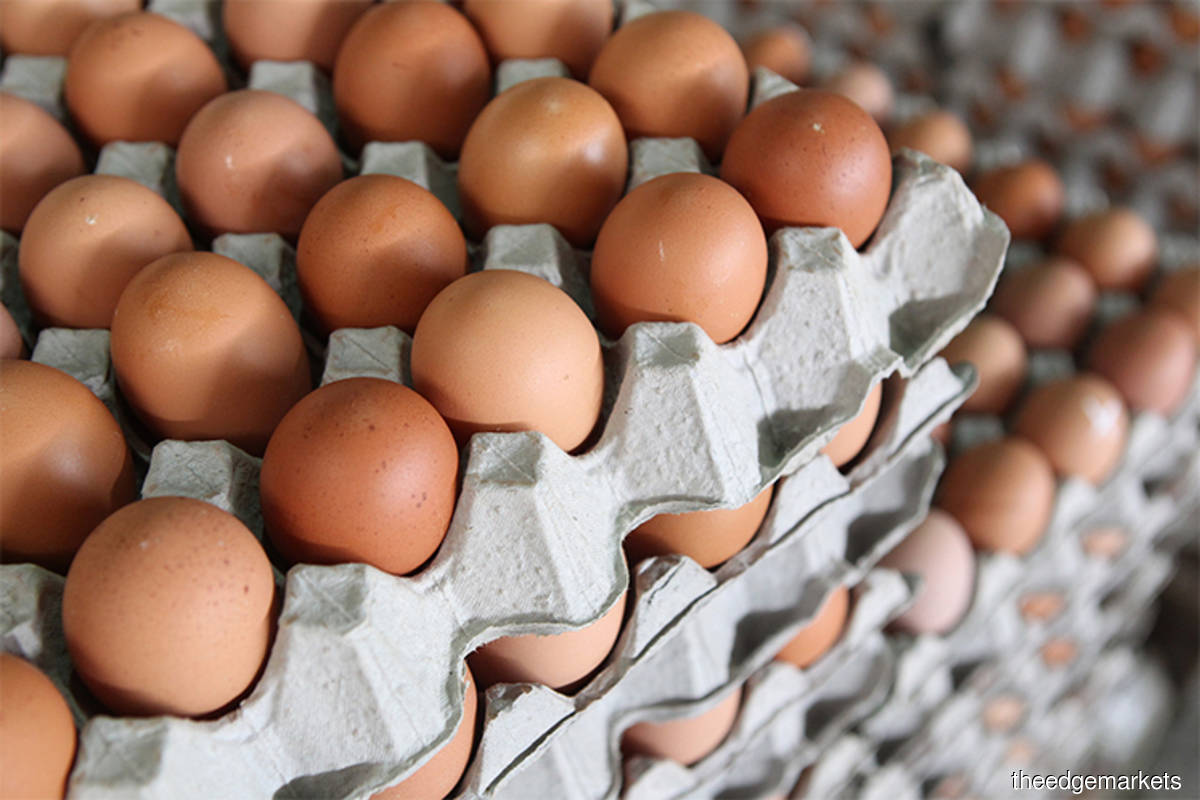 KUALA LUMPUR (Nov 30): The supply shortage of eggs continues to plague consumers in markets across the country.
The situation has burdened consumers, with some retailers imposing limitations on the sale of chicken eggs, in addition to charging high prices.
In KUALA LUMPUR, a trader at Pasar Datuk Keramat, Hashim Bahrawi, 57, said that previously, he could get a supply of 35 trays a day, but now only receives 15.
"Today, I got only five trays of grade A eggs and 10 trays of grade B. In the past, I always got 15 trays of grade A eggs and 20 trays of grade B," he told Bernama.
Buyer Soo Yin Mun, 53, also expressed regret over the difficulty in obtaining eggs in the area, not to mention the higher-than-usual price.
In PERAK, a member of the Perak State Consumer Movement, Aswannudin Hariffudin said based on surveys done around Rapat Setia and Chemor in Ipoh, grocery and restaurant traders found it difficult to find egg supplies in some places.
"There are also restaurateurs who complain that there is a self-imposed quota (by traders) for purchasing eggs. The lorries that bring the supplies also said there were no eggs. And if there are (eggs), they're more expensive than the regular price. There are consumer complaints about the eggs being sold, many of which are damaged or rotten," he told Bernama.
Meanwhile, the spokesman for the Ministry of Domestic Trade and Consumer Affairs (KPDNHEP) of Perak requested that an official complaint be lodged if there is a shortage of chicken and eggs, to facilitate the ministry to take immediate action.
In KELANTAN, a Bernama survey at two supermarkets in Gua Musang on Wednesday (Nov 30) found no eggs (in trays) for sale, leaving customers with no choice but to buy Omega (hens fed special diet) chicken eggs, which are sold at RM8.30 for 10.
Siamese food shop trader Sunon Champakhao, 56, said the lack of eggs had forced her to reduce the quantity of egg-based dishes on her shop menu.
"Nowadays, it is very difficult to buy eggs in large quantities; there was a time when we had to buy fresh eggs priced at RM7.90 for (only) 10 eggs; this also affects our business," she said when met at Pasaraya Econjaya Gua Musang on Wednesday.
In SELANGOR, the state KPDNHEP enforcement operations chief Mohd Shahran Mohd Arshad admitted there was a lack of eggs in the market, but only for traders who purchased in bulk for their business.
"But for end-users like ordinary customers, it is enough to buy according to needs, considering that the shelf life for eggs is not long. It is not wise to store them in large quantities. So, I remind consumers not to resort to panic-buying," he said.
He said so far, the Selangor KPDNHEP had not received any complaints on the shortage of subsidised grade A, B and C eggs, as well as on the issue of hoarding chicken eggs in the state.
Mohd Shahran said the reported reduced supply of chicken had recovered and chicken (meat) sellers also did not charge more than the maximum price of RM9.40, with no added-on cutting fee.    
In TERENGGANU, state KPDNHEP director Saharuddin Mohd Kia said stocks at the wholesale level had reached 100% and were now in the process of distribution, while traders have also been found to comply with the set control prices.
In KEDAH, president of the Consumers' Association of Kedah (Cake) Mohamad Yusrizal Yusoff said an inspection carried out on Tuesday found shops with a supply of 3,000 eggs but were sold out in an hour or only 30 minutes.
A Bernama survey of retail shops around Alor Setar found the price of grade B eggs at RM14 for 30 eggs, while there were shops that limited consumers to 10 eggs at RM4.50 per purchase.
In PAHANG and PENANG, surveys found that the price of fresh chicken was still high, despite getting supplies directly from chicken-processing factories.
The owner of a chicken rice restaurant in Kuantan, Mohd Nadzir Ali, 45, said the price of chicken was still high at RM9.30 per kg. "This price can still be considered high because before, we used to enjoy a price of around RM7 plus per kg, although that price only lasted for about two weeks," said Nadzir, who needs 120 birds every day.
Trader Mohd Shafi Yaakob, 27, who deals with chicken at several markets around Bayan Baru and Bayan Lepas, said he buys fresh chicken from wholesalers at a price of RM9.10 per kg and hence, found it impossible to resell it at the set ceiling price of RM9.40.
In NEGERI SEMBILAN, a fresh chicken trader at the Ampangan Market, Alizan Tambi, 51, said small traders like himself were feeling the pinch because they were still facing a lack of chicken supply since the middle of this year.
The 51-year-old trader said the supplier sold the chicken for about RM7.60-RM7.70 per kg to traders like him.
"If the payment (made by the trader) is okay, you can get a slightly cheaper price from the supplier. The supply range that I get is only 400-500 birds and it is not enough. I have to sell at a price of RM10.50-RM10.90 per kg."
In SABAH, checks done in the districts of Kota Kinabalu, Penampang and Tuaran found prices of eggs and chicken were stable and did not change much.
The price of grade A eggs around the three districts including the Kota Kinabalu Market, Donggongon Market in Penampang and Tuaran Market were around RM15 for 30 eggs; while grade B was RM14.70 for 30 eggs, and grade C was tagged at RM14.40.
The price of "super chicken" is different in the three markets, namely around RM11.50 per kg in the Donggongon Market in Penampang and Tuaran Market; and RM12 per kg at the Kota Kinabalu Market.
A fresh goods trader in Kota Kinabalu, Khairul Jani Mat Jun said traders could still maintain the prices of eggs and chicken for now, but the amount of stock received from suppliers was quite low compared to usual.
"For these past two or three weeks, the supply has been improving, the stock is there, but this week, the supply that arrived is less than usual. I'm also worried that like before, there is very little stock, so prices may soar, putting both traders and buyers in trouble," he said.
In MELAKA, state KPDNHEP director Norena Jaafar said so far, she had not received any complaints regarding the increase in prices of chicken or eggs.
She said the price of chicken was RM10.40 per kg and sellers charged a cutting fee of RM1, which was standardised throughout the state, while eggs were sold according to the set control prices of 45 sen (Grade A), 43 sen (Grade B) and 41 sen (Grade C).