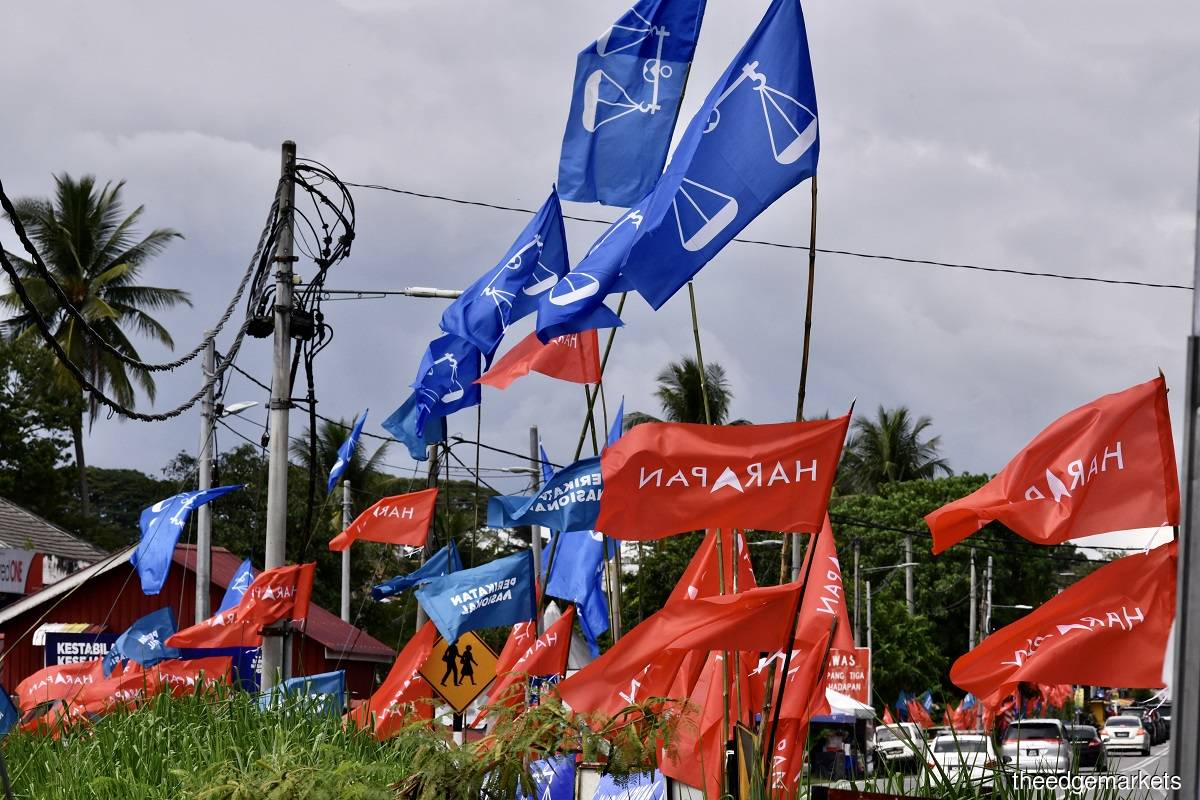 KUALA LUMPUR (Nov 16): The 15th general election (GE15) is unlikely to produce a clear winner, although Datuk Seri Anwar Ibrahim's Pakatan Harapan (PH) is most likely to with the largest share of the votes (35%), according to British international internet-based market research and data analytics firm.
In a statement on Wednesday (Nov 16), the pollster said that Perikatan Nasional (PN), a coalition of former prime minister Tan Sri Muhyiddin Yassin's party and PAS, are set to pick up 20% of the votes, with incumbent Prime Minister Datuk Seri Ismail Sabri Yaakob's Barisan Nasional (BN) trailing at 17%.
YouGov Asia Pacific head of public affairs and polling Dr Campbell White said while PH is likely to perform well in urban parts of Malaysia, the substantially lower number of voters required to win a seat in rural electorates where BN and PN are likely to perform well means that the Parliament is likely to be very complex.
"That is not even taking into account the states of Sabah and Sarawak, where local coalitions which have split from BN in the last term can do well in terms of seats on relatively small shares of the national vote.
"The risk for PN and BN is that a conservative, predominantly Bumiputera vote will be split in Peninsular Malaysia, under the 'first-past-the-post' system," said White.
YouGov said that when it came to voter views towards political figures specifically, Muhyiddin appeared to hold the best impression, with one in three (33%) feeling positively toward him.
It said he has a narrow lead over Anwar (29%), while Ismail Sabri is less popular than either of his two main opponents, with 22% expressing a positive view and 30% negative.
Meanwhile, fewer held positive impressions of PAS president Tan Sri Abdul Hadi Awang (16%) and Tun Dr Mahathir Mohamad (14%), with the greatest proportion of voters holding negative impressions toward the latter (44%).
YouGov said voters were also asked about the issues of greatest importance this election.
It said cost of living dominated, with both rising costs of goods and services and income ranking highly.
Rising costs of goods and services came up tops (51%), followed by government integrity (38%).
Both issues were of even greater consideration among older voters above the age of 50 (60% for rising costs of goods and services; 51% for government integrity).
Get our comprehensive GE15 coverage here.