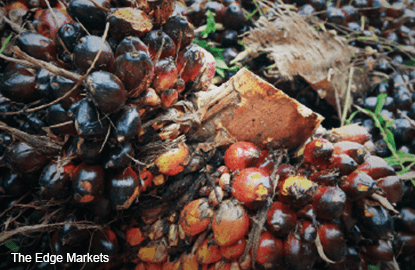 KUALA LUMPUR (Sept 11): CIMB Investment Bank Bhd said Malaysian palm oil inventory might rise by another 8% in September to 2.6 million tonnes from a month earlier as higher output outstrips exports.
In a note today, CIMB analyst Ivy Ng said sizeable palm oil inventory might cap crude palm oil (CPO) prices.
"Production is expected to remain healthy in September, although the worsening haze situation in the country could negatively affect productivity at the estates. We expect slight improvement in exports as the sharp fall in the ringgit against the US dollar makes Malaysian palm oil exports more competitive.
"The rising stocks and weak biodiesel demand are likely to cap upside potential of CPO price, while concerns about the potential El Nino impact on supplies could provide near-term CPO price support," Ng said.
At 12:30pm today, CPO for October 2015 delivery changed hands at RM2,095 a tonne. This compares to RM1,834 on August 26 this year.
Today, the ringgit weakened to 4.3138 against the US dollar. The current rate compares to 3.1890 a year earlier.
CIMB's note followed the Malaysian Palm Oil Board's (MPOB) announcement on August production and inventory yesterday.
 
MPOB said palm oil inventory climbed 10.04% to 2.49 million tonnes in August from 2.27 million tonnes a month earlier on higher CPO output and lower exports.
MPOB said inventory, comprising CPO and processed palm oil, increased as CPO output rose 12.96% to 2.05 million tonnes from 1.82 million tonnes. MPOB said palm oil exports, however, fell 0.3% to 1.608 million tonnes from 1.613 million tonnes.
Today, TA Securities Holdings Bhd said it projected CPO to trade within the RM1,900 to RM2,100 range in the immediate term.
In a note, TA said it retained its 2015 CPO price forecast at RM2,260.
CIMB's near-term CPO price forecast is between RM1,800 and RM2,200. Ng said the research firm had an average 2015 estimated of RM2,230.