This article first appeared in The Edge Malaysia Weekly, on October 4, 2021 - October 10, 2021.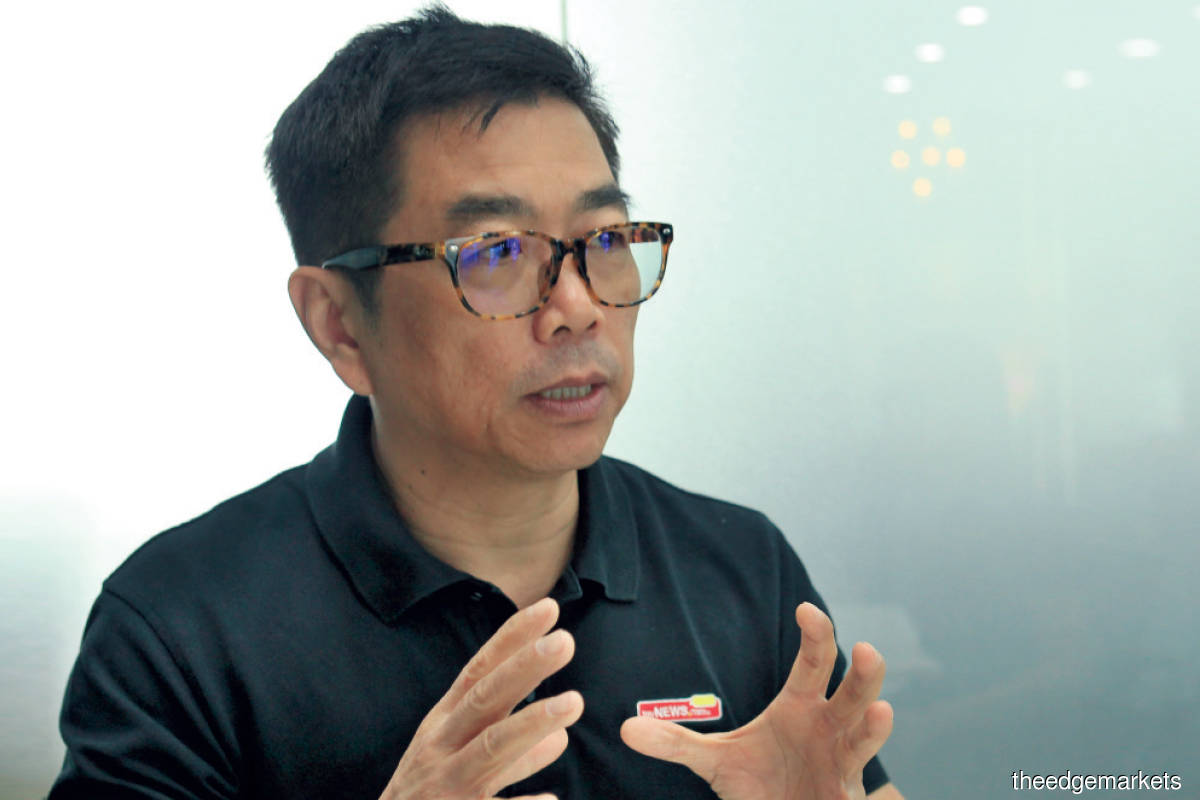 CONVENIENCE store operator myNEWS Holdings Bhd is hopeful that the decline in Covid-19 infections and easing of movement restrictions herald better times, or at least that the worst is over.
As with many businesses that rely heavily on customer footfall to generate sales, myNEWS was hard hit by the Covid-19 pandemic and long lockdowns as was reflected in its third quarter ended July 31 (3QFY2021) performance, in which it recorded its widest quarterly loss ever of RM14.91 million on revenue of RM93.89 million.
For the cumulative nine months, net loss totalled RM34.18 million against revenue of RM296.5 million. myNEWS is likely to ring in another year of losses this year after registering its maiden loss in FY2020.
Analysts believe, however, that the losses have bottomed and recovery should be quick as footfall increases at the outlets.
myNEWS group CEO Dang Tai Luk told The Edge in an email reply that the group's financial performance had been affected by the prolonged Movement Control Order (MCO) and Enhanced MCO — totalling 86 out of 92 days during 3QFY2021.
For myNEWS, the damage was worse, as 80% of its outlets are located in the Klang Valley, which had been put under more stringent movement restrictions than most of the country.
"Since the beginning of the pandemic, the trend of our retail sales performance has been directly reflective of the level of MCO restrictions — the stricter the control, the worse the performance," says Dang.
That the Klang Valley is finally moving into Phase 3 of the National Recovery Plan from Oct 1 is welcome news.
In a report, Maybank Investment Bank Research says myNEWS' average daily sales have increased by 15% since mid-August as operating hours are extended and dine-in resumes.
Dang says sales are improving at its outlets and this will help improve the utilisation rate of its food processing centre (FPC) as higher volumes of products are sold at its outlets.
Having commenced operations in the second half of 2019, the FPC had yet to reach economies of scale when the pandemic hit, affecting the progress in its production level as the volume of retail sales fell significantly. Its financials dragged as the MCO continued.
Apart from the convenience outlets, myNEWS also has a 50:50 partnership with British retailer WH Smith Travel Ltd (UK) under the name WH Smith Malaysia Sdn Bhd, which operates WH Smith outlets in Malaysia's international airports.
Unfortunately, with air travel limited for the greater part of the year, that business segment also came under pressure. But, with economic activities back onstream and anticipated recovery of the air travel industry in coming months, Dang is hopeful of a rejuvenation at its WH Smith stores.
CU in the expansion plan
Dang discloses the group has closed about 90 non-performing stores since the start of the pandemic and took bold steps to reposition itself for a quicker recovery as early as possible. This included bringing in CU, a convenience store from South Korea, in the past year, and launching myNEWS Supervalue, a larger-format store.  
He says: "So, in addition to efforts to improve the in-store sales of our existing outlets, we will be very focused on growing the number of CU and myNEWS Supervalue stores. Our target to have 500 CU stores within five years of its first opening (April 1, 2021) remains.
"Meanwhile, the growth in retail sales will increase the production rate of our FPC to enable it to achieve economies of scale. We will continue to capitalise on the growing trend of our omnichannel retail to deliver on-demand everyday goods and fresh foods to consumers' doorstep."
myNEWS aims to have a total of 50 CU outlets by year-end. RHB Research highlights in a report that the CU convenience stores have been well-received by consumers, and that it does not rule out a shorter gestation period for the new stores.
It says the ready-to-eat offerings at CU should help in the FPC's breakeven trajectory. myNEWS plans to hit a 70% utilisation rate by end-FY2022, from 30% now.
"This should be achievable, as we note that myNEWS' FPC can cater for 600 myNEWS stores, which are less food-centric than CU outlets," it adds.
Dang says CU stores, being food-centric in nature, fetch a higher average basket size than myNEWS outlets, but he is unable to provide a comparison of the average basket size for both at the moment, given the fluid environment.
He is relieved that movement restrictions have eased and is optimistic about what lies ahead for the group's 515 myNEWS stores and five CU stores. "myNEWS' appetite for fast growth remains. We are working hard to regain our lost business. Our revenue, store count and new target have been dented, of course, but this is the damage the pandemic has caused. It was unexpected.
"However, we are reenergised to expand again, increase the number of stores and continue to grow from here as the normalisation trend continues to improve. We remain optimistic and steadfast in this business, which is the only one that we have been operating and focusing on for more than 20 years," he says.
Year to date, myNEWS' share price is up on the back of a recovery play. It has gained 48.4% to 92 sen at last Thursday's close, valuing the company at RM624.13 million.