This article first appeared in The Edge Malaysia Weekly, on December 28, 2020 - January 10, 2021.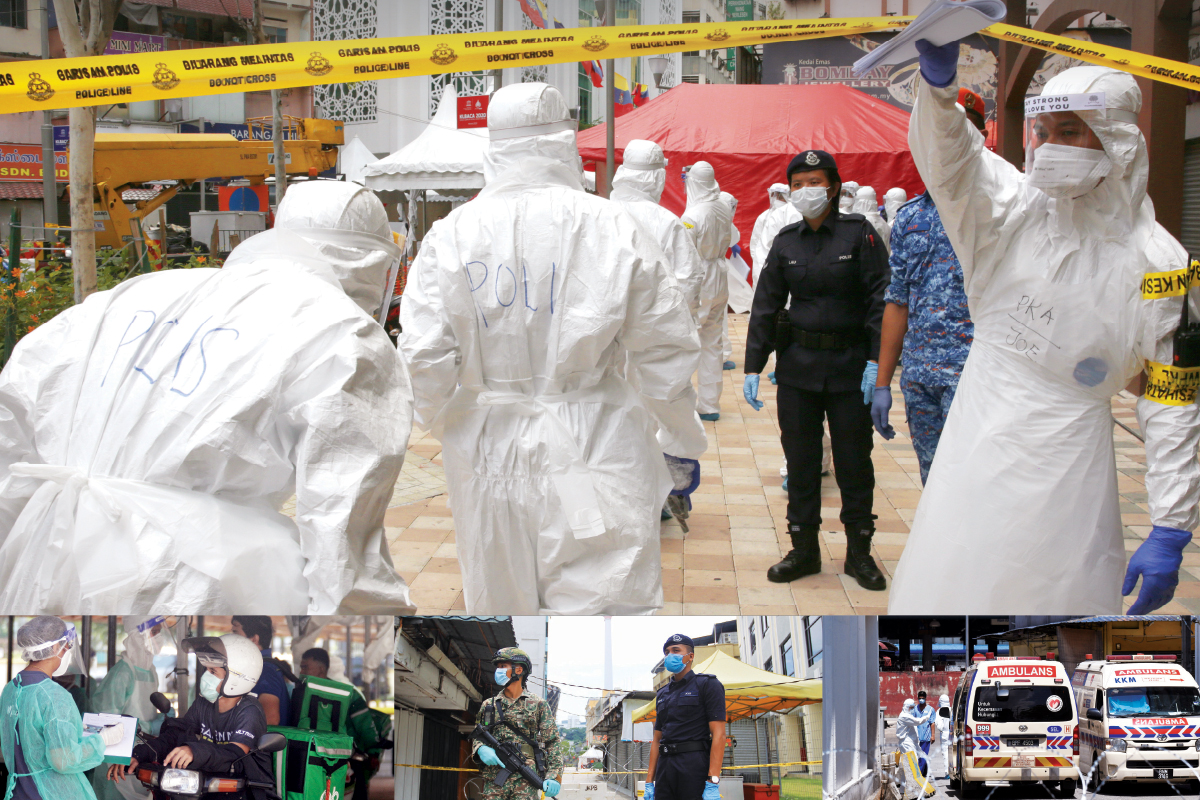 WITHIN the iconic red border of Time magazine's Dec 14 edition, the number 2020 is crossed out with red ink. A small headline below reads The Worst Year Ever. National Geographic, meanwhile, ran a special issue in November. On its cover was a CT scan image of the chest area and lungs of a 69-year-old Covid-19 patient and the heading, A World Gone Viral and How the Pandemic is Changing Our Lives.
It was a year when the human race faced its greatest health catastrophe, a once-in-a-century pandemic. The last one of this scale was the Spanish flu of 1918/19, which killed 50 million people. Covid-19 is highly contagious but fortunately less lethal. Advancements in modern science have helped keep casualties at about 1.7 million for now, even though the virus has infected more than 75 million people worldwide.
Ironically, the US, despite having the world's biggest economy and among the best medical facilities in the world, recorded the highest number of deaths globally — approaching 320,000 at the time of writing. Europe, too, was badly affected, proving that the coronavirus, which emerged from Wuhan, China in December 2019, does not discriminate between rich and poor, black and white.
By December, a vaccine had been approved and vaccination programmes began in Europe and the US. The Pfizer-­BioNTech and Moderna vaccines have a high efficacy rate of 95% and 94.1% respectively, and more companies expect to get their vaccines approved by health authorities worldwide by the first quarter of next year.
Despite this scientific miracle, mask wearing, hand washing, social distancing and avoiding mass gatherings must be strictly adhered to as many countries wait anxiously for vaccines to be available on a global scale by the second half of 2021.
While relief appears to be in sight, who can forget the scenes at the height of the pandemic when no one knew how to deal with the latest mutation of the coronavirus? The world stood still in mid-March to May as many of us hunkered down in lockdown in our homes.
Airplanes stopped flying, the streets were emptied of cars, cities were deserted and ships forced to anchor at harbours. Houses of God were empty, popular destinations were devoid of tourists, live sports went dead and the biggest sporting event in the world — the Tokyo Olympics — was cancelled.
Economic hardship followed as demand in many sectors collapsed, unemployment numbers rose in the millions, the inequality gap widened and poverty increased around the globe. Hospital emergency rooms were inundated, and schools and universities remained closed for most of the year.
We were forced to make adjustments. And as we rid ourselves of excess and wastage, from the way we spend, consume food and energy to how we treat the environment, the world seems to be able to breathe again. Photos of clean rivers and clear blue skies emerged, with the Himalayas becoming more visible from a distance, sending a message to the world that mankind is in need of a reset.
As in any battle and adversity, heroes have emerged. In this pandemic year, "frontliner" is not just a word to describe workers at the front line of a public-facing job. Frontliners have become our national heroes, our saviours.
They are not limited to the doctors, nurses and general health workers who care for the sick at risk of getting infected themselves, and scientists and virologists searching for a vaccine, but also the food delivery boys and couriers who have made life less miserable during lockdowns.
Then there are the police, army and Rela corps who manned the streets and kept us safe, and the firefighters, non-governmental organisations, volunteers and the man in the street who helped feed the needy. And not forgetting the teachers who went the extra mile to keep classes going online.
We have seen the best in people. They have proven to be a true reflection of what a multiracial, multi-religious and multicultural Malaysia should be, stripped of politics and racial sentiments, working hand in hand with corporate Malaysia to help the most vulnerable and care for each other.
In a year when frontliners made life more bearable for the rakyat, it was the politicians who disappointed. They killed ballot-box democracy, dragged the nation into endless political manoeuvring and heightened racial polarisation.
For all the reasons listed above, The Edge is putting frontliners at the top of our Newsmakers of the Year list. We owe them a big thank you. — By Azam Aris
Fighting Covid-19 calmly but vaccination roll out will be next test
Not all heroes wear capes — this is a good way to describe the most prominent figure in the nation's efforts to handle the Covid-19 pandemic. Tan Sri Dr Noor Hisham Abdullah, who is commonly known as the Health D-G, has become a familiar face for his service to the country during the Covid-19 pandemic.
His image is beamed into the homes of ordinary Malaysians on most evenings via live telecast, giving the nation the latest updates on the outbreak.
Noor Hisham has gained the public's confidence by being professional, calm and informative when answering questions from reporters. His explanations about the importance of enforcing the Movement Control Order (MCO), the current infectivity rate in the country, the targeted approach taken by the Ministry of Health in curbing the virus and related matters, are clear.
He also uses his social media accounts such as Facebook (Noor Hisham Abdullah) and Twitter (@DGHisham) to guide and educate the people, and explain measures and strategies to fight the virus. He is someone that Malaysians can rely on to give fact-based answers.
Noor Hisham's constant advice to adhere to the standard operating procedures (SOPs) has helped the public to quickly learn to live with this new normal lifestyle. Throughout the battle with the virus, now in its 11th month, he has reminded Malaysians to practise social distancing — keeping at least 1m away from others, wearing face masks, washing hands, using hand sanitisers and avoiding crowded and confined spaces.
In April, Noor Hisham was named one of the leading doctors in the world for his fight to curb the spread of Covid-19 by the China Global TGV Network (CGTN) — an international media organisation based in China — alongside the US' Dr Anthony Fauci and New Zealand's Dr Ashley Bloomfield.
In June, Senior Minister (Security) Datuk Seri Ismail Sabri Yaakob said Malaysia was among the top five countries in the world to have succeeded in controlling the spread of the virus. A global survey found that the government's actions in containing the pandemic received high public approval.
The World Brands Foundation (TWBF) has also acknowledged Noor Hisham's leadership and his team's hard work in effectively managing the outbreak. The Ministry of Health received the BrandLaureate's Certificate of Recognition and Appreciation and Noor Hisham was awarded the BrandLaureate Outstanding Brand Leadership Award 2020.
All that adulation has not gone to his head. Instead, Noor Hisham says praise should go to the country's leaders as well as frontliners.
From a controlled situation, with cases in the single digits in January, to the worst level of the pandemic in October, when daily new cases were in the four digits, the Health D-G and his team continue to inspire confidence in the country's health services.
"The war has not been won yet, and neither have we lost," Noor Hisham says, calling on all Malaysians to show cooperation and commitment in defeating the virus.
2021 will be another test for him and his team, especially whether they can execute a speedy and effective roll out of Malaysia's vaccination plan, which is ultimately where the fight against Covid-19 will be won or lost. — By Syafiqah Salim
An unwavering spirit of service
A big part of the credit for fighting the Covid-19 pandemic no doubt belongs to healthcare workers stationed on the front lines.
They risk their lives every day as their work involves coming into close contact with people who are confirmed to have caught the disease or have been exposed to it.
They work around the clock attending to Covid-19 patients who have been hospitalised, as well as conducting a huge number of tests on people at risk.
The Malaysian Health Coalition, which represents 49 organisations and 20 individuals, says it is the duty of healthcare professionals to always serve people in their time of need, and this year, it has been no different.
"The Covid-19 pandemic has been an eye-opener on many levels. We learned the real meaning of sacrifice when forced to isolate from our loved ones; our skills, sharpened over years of practice, were challenged and taken to new heights with the adoption of protective equipment and procedures; and by coming together as the Malaysian Health Coalition, we recognised the importance of being united during a crisis.
"However, we are not immune to the fatigue that is being felt by the rakyat and around the world. Early studies have shown that burnout rates among healthcare professionals are increasing. Like you, we are exhausted. But also like you, we are resilient, and must continue fighting," the association said.
The flood of media photos during the year shines a light on the plight of the healthcare workers, many of whom are experiencing extreme fatigue and emotional distress from dealing with the crisis.
Still, they remain resolute in their duty to serve and it is thanks to their efforts that Malaysia's Covid-19 crisis remains under control today.
"The lessons learnt this year must guide us through the next. All branches of government, healthcare, academia and the private sector must continue collaborating to protect the health of all Malaysians because eradicating Covid-19 is a collective effort. Our health depends on every single person playing their part," the Malaysian Health Coalition says. — By Syahirah Syed Jaafar
'The best man is he who is best to mankind'
That is the motto of the Malaysian Relief Agency (MRA). And that is also the same spirit we have seen in many non-governmental organisations (NGOs), those that are well-established as well as new ones prompted into action by the Covid-19 crisis. In a time of pandemic, they are heroes, all of them.
In the case of MRA, on top of having its own aid programmes, it was also the distribution partner of The Edge Covid-19 Equipment Fund which, along with The Edge Covid-19 Healthcare Workers Support Fund, raised RM25 million to assist those in need.
MRA was set up as a foundation on March 1, 2009, in Kuala Lumpur. Operations started in a small room with a single chair, a table, a PC, and RM20,000 from a donor. Today, it is an established relief agency that is also well known for its international humanitarian aid and community development in Egypt, Somalia, Palestine and Gaza, the Philippines, Myanmar, Japan, Pakistan and Sri Lanka. It has also been active in Syria, Yemen, Bangladesh, Thailand, Indonesia and Nepal.
But since March, as Covid-19 started to rage, MRA has gathered all its energy to embark on a nationwide humanitarian assistance mission through its 10 branches, including in Sabah and Sarawak, to supply RM13 million worth of medical items and personal protective equipment to hospitals and clinics. It is also distributing food packs to the poor and those badly impacted by the economic lockdown and movement restrictions.
Although it is an experienced humanitarian NGO with overseas exposure in war zones, famine-stricken areas, earthquakes and floods, MRA found that Covid-19 posed a different set of challenges.
"Delivering aid in a humanitarian crisis is our responsibility. However, during this pandemic, we need to take care of the volunteers as well. Covid-19 is contagious and there are volunteers who were infected by the coronavirus. But still, when they recovered, they showed their resilience by continuing to serve the community," says MRA president Dr Mohd Daud Sulaiman (pictured), who is a cardiologist.
What impressed Dr Daud during the pandemic and the MCO was the discipline shown by Malaysians of different backgrounds, races and religions to help those in need, while following standard operating procedures and showing their strong support to the frontliners.
"Covid-19 taught Malaysians to be more humane, to be aware of their responsibility to live in a community and help one another," he adds. — By Azam Aris
Last-mile delivery saviours
Last-mile delivery partners have earned praise as heroes on the front lines ever since the government announced the Movement Control Order (MCO) in March, which saw Malaysians being stuck at home for two months.
Delivery services such as GrabFood, Foodpanda and Lalamove saw a spike in demand as those who were stuck at home at the time relied on these services to get food, daily necessities and assorted items delivered to their doorsteps.
The last-mile delivery riders also became an essential lifeline for businesses to complete the last leg of their supply chain, as customers were kept out of physical stores.
Aezrine Shah Abdullah, 42, a freelance photographer and designer, became a Lalamove delivery partner as freelance work had dried up during the first leg of the MCO.
"I was out of jobs and had to find an alternative source of income. I happened to have a chat with a Lalamove driver who delivered something to me and I found out that I could put my 10-year-old car to use," he says.
Aezrine started driving for Lalamove from April on a part-time basis. For him, the pay was "not too bad", and he could earn about RM1,500 after accounting for toll and fuel expenses, doing deliveries every other day from 10.30am until dinner time on weekdays.
"I would say driving around the whole day and carrying things is tiring, but it's less stressful than working in front of the computer," he notes.
Since then, freelance work has started rolling in again, albeit not at pre-Covid-19 levels, but still enough for a living. Aezrine still does deliveries from time to time as a form of socialising.
"I love driving around and meeting up with people. It feels good when people acknowledge and appreciate your service, even with simple gestures like saying 'thank you', 'drive safe' or 'have a nice day'. It's even better when they stop to have a chat," he adds.
Ikhzreen Husin, 29, who works as an assistant piling tester at construction sites, started doing GrabFood deliveries in the first few months of the lockdown, not only as a way to supplement his income, but also to escape boredom at home.
"I was on paid leave for two months and I got very bored sitting at home, which was part of the reason why I started doing food delivery. I could go out for deliveries and chat with interesting people," he says.
"It was also good exercise, as some places, like apartments, required me to climb the stairs to make the delivery. Some riders prefer not to do physical work and would ask the customer to come down to the lobby, but I loved it. It was challenging at times but I enjoyed it," he adds. — By Ahmad Naqib Idris
Online education a tough new test for teachers
After the pandemic broke out, educators were greatly tested as schools and universities closed their doors, forcing them to take their classes online and adapt to a new way of teaching and learning.
Working parents, who had to adjust to working from home, also found themselves having to supervise the lessons of their young children to ensure that online learning went smoothly. Making sure their children had access to a functioning computer with a camera and smooth internet access was just the start.
Often, the challenge for both parents and teachers was not just getting children to log on for the online classes, but to also make sure that effective learning took place.
A recent survey by EMIR Research shows that 80% of 2,096 respondents were worried about the quality of online education, which became the new norm because of Covid-19.
In the city, having access to a decent internet connection and owning a computer may tend to be taken for granted. Elsewhere, the pandemic has highlighted the plight of communities that do not have access to these tools and facilities. Without them, a segment of the school children had to opt out of online classes.
The case of Veveonah Mosibin, 18, a University Malaysia Sabah student, came to the public's attention in June when she posted a YouTube video of herself climbing a tree to get an internet connection.
Veveonah, who lives in Kampung Sapatalang in Sabah, said she did so because the internet connection was poor on the ground and better at a height. She stayed up in the tree for a day so that she could take an online exam.
The Malaysian Multimedia and Communications Commission has since said that 4G services will be provided for the residents of Kampung Sapatalang by the middle of 2021.
The new reality of online learning has shone a spotlight on the education system in Malaysia.
In a recent report, Emir Research notes that Malaysia's education system might not be efficient enough to apply the new norm of online education as some teachers and staff do not have the necessary skills to handle online classes or teaching resources.
Quoting Prof Dr Mahizer Hamzah, chairman of the Malaysian Educational Technology Association, the research firm says many teachers still need guidance on the technical aspects of online education, as well as suitable designs for the development of digital teaching materials, along with a comprehensive support system to assist them. — By Syahirah Syed Jaafar
Queue-jumpers fall in line, thanks to strict rules
Thanks to efficient enforcement, standard operating procedures (SOPs) to prevent the spread of the Covid-19 virus, as set out by the Ministry of Health (MoH) and various authorities, have been integrated rather smoothly into our day-to-day life.
Prior to the pandemic, motorists approaching police roadblocks would do so with some anxiety. Throughout the MCO and the subsequent Conditional and Recovery MCOs, however, these checkpoints have become a part of everyday life.
The fear associated with roadblocks have likely abated, especially as we become familiar with the faces of the security personnel manning them. In fact, some residents have even befriended local police assigned to checkpoints near them.
One GrabFood delivery rider recalls passing a police checkpoint during the month of Ramadan that looked like a bazaar stall. The tables in the police tents were spilling over with food and drinks donated by residents ahead of iftar, the breaking of fast. It was a small but thoughtful gesture to show their appreciation for the officers, who spend hours every day, in rain or shine, to carry out their duties.
"It reminded me of one of the stalls at Jalan Tuanku Abdul Rahman when the Ramadan bazaar is in season," he says.
There are fewer police checkpoints now, following the government's decision to remove the restrictions on inter-district and interstate travel.
Another notable shift has been the level of common courtesy among Malaysians, which has drastically improved amid the enforcement of the SOPs.
Instead of queue-jumping — a once common sight at popular roadside stalls or retail outlets — people now wait patiently in line, with shop attendants reminding them to stick to the physical distancing rule.
Wearing masks has also become a new normal. However, Malaysians in general have no problem with masks and accept that they are necessary, unlike in the West, where anti-mask movements and protests have sprung up in various countries.
The rakyat has also adapted well to temperature checks and QR code scans before entering any premises. — By Ahmad Naqib Idris
Social, economic inequality exposed
Migrant workers have been in the spotlight during the Covid-19 crisis, being the weakest link in our defence against the pandemic.
An early warning came with the surge of Covid-19 cases among foreign workers in the Selangor Mansion and Malayan Mansion areas in Jalan Masjid India, Kuala Lumpur. In response, the government imposed an Enhanced Movement Control Order (EMCO) on the areas on April 7, after 15 positive cases were detected.
Around 97% of the residents of both buildings were migrant workers, said Senior Minister (Security Cluster) Datuk Seri Ismail Sabri Yaakob.
The two blocks of flats with more than 6,000 residents were cordoned off to prevent the spread of the virus. Residents were prohibited from exiting the premises, while non-residents were denied entry.
Poor housing conditions for migrant workers are said to be driving the spike in Covid-19 cases at construction sites, which are cramped and leave little to no room for physical distancing. According to the Ministry of Health, more than 20 clusters in the country are linked to construction sites.
A construction site in Jalan Ampang was closed for 30 days in May because a dormitory for workers was built without a permit from Dewan Bandaraya Kuala Lumpur (DBKL). This news came after 28 cases of Covid-19 infections, all involving migrant workers, were confirmed at the site.
The world's largest rubber glove maker, Top Glove Corp Bhd, which saw a sensational rise in value on the back of expanding demand, lost some of its shine when its workers were infected in the so-called Teratai cluster in November. The spike in Covid-19 cases came from its foreign workers' dormitories in Klang, Selangor. After 215 positive cases were detected there, the government decided to impose an EMCO in the dorms.
As at end-December, the Teratai cluster had a total of more than 5,000 cases. The death of a Nepali man who was employed in the company for more than two years was reported on Dec 14.
Irene Xavier, co-founder of Sahabat Wanita Selangor — a local group assisting migrant workers — says the overcrowded living quarters of foreign workers have made them hotspots for the spread of the Covid-19 virus.
"We knew about the appalling living conditions for migrant workers, but the government and the employers refused to acknowledge it and conditions worsened until the Covid-19 virus exposed it and threatened to spread outside the migrants' accommodations," Xavier says in a text message to The Edge.
The crisis points to the need for a comprehensive policy for migrant workers under the Ministry of Human Resources, with equal conditions of work for locals and migrants, she adds. — By Syafiqah Salim
The ustaz who practises what he preaches
Ustaz Ebit Lew, the Chinese-Muslim motivational speaker and preacher, was here, there and everywhere this year. During the Movement Control Order (MCO) period, he helped people of all races, creed and colour in their time of need, when even food was scarce for some of them.
Lew embodies the true spirit of living in a multicultural and multireligious Malaysia. He was seen visiting Malay homes in Kampung Tapang in Kota Baru, Kelantan; Chinese new villages in Kuantan, Pahang; and Indian settlements in Sungkai, Perak, providing food, basic necessities and cash to the poor. In Sungkai, he was greeted by an Indian girl who said, "Ini Ebit Lew kan … saya cam kat FB," reflecting his growing popularity and stature. The ustaz has 4.2 million followers on Facebook.
It was also in Sungkai that the Muslim preacher showed no qualms about entering a Hindu temple to distribute food and cash to monks.
As he did so, he spoke to those he was helping, often asking if they needed additional assistance. He repaired the dilapidated houses belonging to the poor, looked for homes that could be rented out to them, bought basic electrical appliances and gave them cash to ease their burden.
A couple of weeks ago, photos of a tired elderly woman, Christine Ti, wearing a pink FoodPanda T-shirt and looking at her phone while resting, was circulated on social media. Having lost her writing job with an English magazine during the MCO, she has been earning a living doing deliveries for FoodPanda in her old Perodua Kancil.
Touched by her plight, Lew helped to repair and service her car, replaced the tyres and gave her some money. "Let's pray for the auntie, she is strong and hardworking," he wrote in an FB posting.
When many residents in Selangor were hit by water disruptions during the MCO, Lew was seen giving out mineral water. When the crisis worsened, he rented tankers to deliver water to residents near Batu Caves.
He did not stop there. When Zoo Negara said it welcomed assistance from the public as the pandemic had affected its revenue stream, Lew donated 200kg of meat and 500kg of fruits and vegetables to feed the animals. He also hired buses to send stranded students home during the MCO.
Lew's direct approach, however, has irked some, including the authorities, who want him to follow standard operating procedures, and seek police and regulatory permission when doing his charity work. But in this crisis, those in need do not have the luxury of waiting. — By Azam Aris