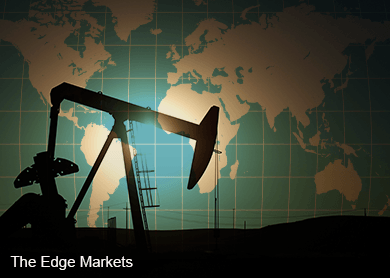 NEW YORK (Aug 29): World oil prices roared back to $50 a barrel in the second day of a frenetic short-covering rally on Friday, with violence in Yemen, a storm in the Gulf and refinery outages helping extend the biggest two-day rally in six years.
Oil had tumbled in tandem with stocks over much of the past week, hitting 6½-year lows below $40 a barrel as Chinese financial tumult stoked fears of slowing growth. Oil rallied on Thursday as equities rebounded, but on Friday oil kept pushing higher even as equity markets were calm.
Dealers said a handful of emerging risks fed oil's gains. Warplanes from a Saudi-led coalition killed 10 people in air raids over Yemen ; Tropical Storm Erika moved closer to Florida, prompting worries about oil and gas installations in the US Gulf.
Brent, the global oil benchmark, closed up $2.49, or 5%, at $50.05, after nearly reaching $51 a barrel. It gained 10% on the week.
US crude's front-month contract snapped an eight-week losing streak, rising $2.66, or 6.3%, to settle at $45.22 a barrel. At its session high, it was up more than $3, or 7% at nearly $46. For the week, it rose 12%.
"A severely oversold and shorted oil market is creating a bid for covering," said Chris Jarvis, analyst at Caprock Risk Management in Frederick, Maryland.
US crude's 17% gain over the past two sessions was the second largest in 25 years. Yet prices remain at half their year-ago level. Traders noted a lingering global glut of oil supplies, and said the rally was largely fueled by a rush by market players to exit a crowded bearish trade.
Late on Friday, US data showed that big hedge funds had slightly increased their bullish net long bets on US crude in the week through Tuesday. But gross short positions barely dipped, leaving a near record number of bearish bets poised to cover as prices turned higher later in the week.
In Europe, diesel prices led gains in the complex, rising nearly 8% after Genscape said Shell's 404,000 bpd crude distillation unit in Pernis, Rotterdam, was offline, a day after a brief shutdown.
New York gasoline prices jumped after news that Phillips 66 had unexpectedly shut down a 150,000-barrel-per-day fluid catalytic cracker at its refinery in Linden, New Jersey, although the contract ended up only 4% as the unit was expected to restart this weekend.
A global glut of fuel and sluggish demand have cut oil prices in half from a year ago. Worries over China's economy have also weighed on the market in recent weeks.
Some analysts said the two-month slump of nearly 30% meant a rebound was due.
But others were convinced the rally would sputter, pushing prices lower again.
Spreads between spot and one-year forward US crude <CLc1-CLc12> were little changed on Friday, suggesting little improvement in fundamentals of oil.
US energy companies added one rig to their fields over the past week, a sixth consecutive gain that is expected to temper the decline in domestic production over coming months.