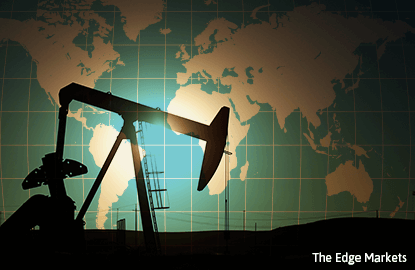 NEW YORK (March 13): Oil rose up to 2 percent on Friday, with U.S. crude gaining for a fourth straight week, after the world's energy watchdog said the market may have hit bottom, although Goldman Sachs said the 50 percent rally in under two months was "premature."
The Paris-based International Energy Agency, which coordinates energy policies of industrialized nations, said U.S. and non-OPEC crude output was beginning to fall quickly, while increases in Iranian supply had been less than dramatic.
The IEA said it believed non-OPEC output will fall by 750,000 barrels per day this year, some 25 percent more than the 600,000 bpd it previously forecast.
Goldman Sachs remained bearish, saying in a note to clients that prices could fall sharply in coming weeks with record U.S. inventory builds offsetting production declines in the country.
The bank said oil prices need to be low enough to ensure supply is reduced over time, projecting $39 a barrel on the average for global benchmark Brent crude in 2016, down from its previous forecast of $45.
"So now it appears the two sides of the debate are set," said David Thompson at Washington-based commodities broker Powerhouse. "The bearish view of Goldman Sachs versus the IEA on the bullish side."
Brent settled up 34 cents, or nearly 1 percent, at $40.39 a barrel. On the week, it rose 4 percent, heading for a third weekly gain in a row.
U.S. crude finished up 85 cents, or 2 percent, at $38.69 a barrel, after hitting a 2016 high at $39.02. It was up 7 percent on the week, a fourth straight week of gains.
Adding to the market's upside was the 12th weekly drop in a row in the U.S. rig count in data issued by oil services company Baker Hughes. With 386 rigs left, the count was down 480 from a year ago and at its lowest since 2009.
The IEA's forecast aside, there could be more supply disruptions, with a source telling Reuters that maintenance works will close Britain's Buzzard oilfield in July for roughly a month. The 180,000 bpd field is the largest contributor to the Forties crude oil stream, one of four crudes which underpin Brent.
However, oil has resumed flowing from Iraq's Kurdistan region to the Turkish port of Ceyhan, sources said, after a pipeline's closure in mid-February removed some 600,000 bpd from the market.