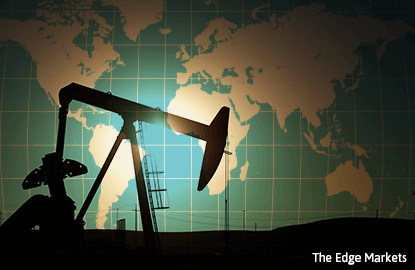 (Feb 16): Top oil officials from Saudi Arabia, Russia and several key OPEC members will meet on Tuesday for their highest-level discussion in months, a potentially pivotal sign that producers are at last preparing to tackle a devastating supply glut.
The talks in the Qatari capital Doha, which had been kept under wraps until recent days, involve powerful Saudi Oil Minister Ali al-Naimi and his Russian counterpart Alexander Novak, sources said, two figures who must reach an accord for any coordinated global action to hold any hope of success.
They will be joined by Venezuela's Oil Minister Eulogio Del Pino, who has in recent weeks been visiting major oil producers to rally support for the idea of "freezing" production at current levels in an effort to halt a downward spiral in prices, sources have said.
Also expected to attend is the oil minister of Qatar, which holds the rotating presidency of OPEC (Organization of the Petroleum Exporting Countries) this year, an important role in coordinating consultations among members and suggestions for extraordinary meetings of the group.
The agenda for Tuesday's meeting was unclear, and the sources declined to provide any further details on it. Del Pino made no comment on Monday when he arrived in Qatar.
The meeting comes after more than 18 months of declining oil prices, knocking prices below $30 a barrel for the first time in over a decade. The slump has been longer and deeper than anyone predicted, and the mood may be shifting among producers which until now have been determined to defend market share rather then prices.
Within OPEC there is a growing consensus that a decision must be reached on how to prop up prices, Nigerian oil minister Emmanuel Ibe Kachikwu told Reuters in an interview late last week, revealing that he too would be travelling to Doha to meet with his Saudi and Qatari counterparts.
Much has changed since the group's fractious meeting in early December, the last big gathering of key oil ministers, when members "were hardly talking to one another. Everyone was protecting their own positional logic," Kachikwu said.
Oil traders are on heightened alert for any sign of action. U.S. crude rose more than 3 percent early on Tuesday to trade back above $30 a barrel, building on last Friday's more-than-12-percent surge amid growing speculation over a deal.
While Venezuela has been by far the hardest-hit of any big producer, oil below $30 a barrel is a fraction of what Russia needs to balance its budget as it is heads towards parliamentary elections later this year. Saudi finances are also suffering badly, running a $98 billion budget deficit last year, which it seeks to trim this year.
Analysts cautioned that it was too soon to expect a sudden breakthrough, even after a year and a half of tumbling oil prices. Saudi Arabia has given no sign of wavering in its view that it would only cut in concert with other producers; Russia has been resolute that it cannot and will not cut back. And Iran is only now restoring exports after years of sanctions.
Yet the small, hush-hush nature of the meeting is sure to evoke memories of the secret talks of the late 1990s that eventually revived $10 oil. A series of sessions from Amsterdam to Madrid, brokered by Mexico, helped heal a rift between Saudi Arabia and Venezuela, restoring OPEC's ability to work together.
Jan Stuart, global energy economist at Credit Suisse, said it was too early to suggest Tuesday's meeting in Doha would lead to action, but noted Naimi's attendance was significant.
At a minimum it will make bearish traders "more nervous," and may staunch the oil price slide, he said.
ABSENTEES AND CAVEATS
Should the talks in Doha go well, many hurdles remain.
Though absent from the attendee list, Iran would likely show some restraint under any accord, tempering its goal of quickly pumping an additional 1 million barrels per day now that it has been relieved of sanctions.
Naimi and Novak, the top officials from the two biggest oil exporters, must overcome a trust issue dating back to 2001, when Saudi Arabia pushed through a global deal to curb output from OPEC and non-OPEC nations. Russia agreed to participate, but never properly followed through on its pledge.
OPEC's leader Saudi Arabia has said it would cut output only if other non-OPEC members agreed to join it.
Russia, the world's top crude oil producer and not a member of OPEC, has long refused, saying its industry was competitive at any price and it was technically challenging for Moscow to reduce production.
Yet more recently several Russian officials, including Novak, have signalled that cooperation with OPEC was possible.
Russian President Vladimir Putin's key ally, the head of state oil major Rosneft Igor Sechin - who had long spoken against the cuts - said last week it would make sense for all producers to remove around 1 million barrels per day from the market.
He did not say if Moscow was ready to contribute, while Putin has yet to speak on the subject.