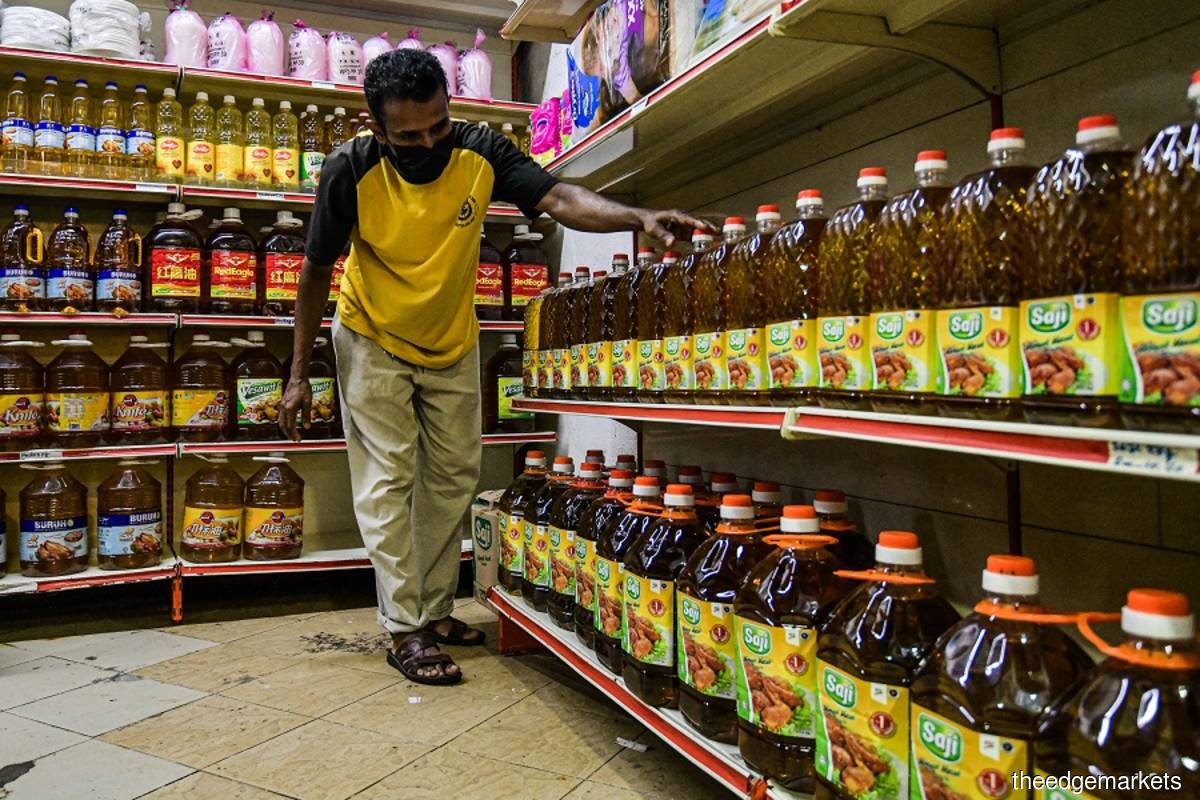 KUALA LUMPUR (July 22): The price of bottled cooking oil at the retail level has fallen in line with the decline in crude palm oil (CPO) prices, said Domestic Trade and Consumer Affairs Minister Datuk Seri Alexander Nanta Linggi.
He said he was informed during a field visit to the premises of a wholesaler in Sibu on Friday (July 22) that a 5kg bottle of cooking oil was being sold at a retail price of RM39 compared with RM45 last month.
"This price drop of 13% is just the beginning, as market projections indicate that the pattern of price downturn due to the CPO effect will continue," Nanta wrote on his Facebook page.
The minister noted that the CPO price had fallen to RM3,814 per tonne on Thursday,  a level last seen in July 2021. This compares with the record high of RM8,076 registered in March 2022.
Nanta warned against attempts to delay the lowering of the price of bottled cooking oil on the basis of clearing old stocks. According to him, the direct effect of the CPO price decline pattern is happening slowly in the market.
"According to the previous simulation by the Domestic Trade and Consumer Affairs Ministry, the current CPO price of RM3,814.50 should result in the price of a 5kg bottle cooking oil to be marketed at the retail level at around RM30.65.
"The Special Task Force on Jihad Against Inflation has issued a statement to the industry that any price drop in CPO would have a direct impact on bottled cooking oil prices at the retail level. So, no party should try to delay changing the price in line with the CPO price, on the excuse of finishing up old stocks," he said.
Nanta also said that the Ministry of Plantation Industries and Commodities (MPIC) will start issuing the price of oil palm fresh fruit bunches on a weekly basis, compared to the current monthly basis method.
"Through this effort, any direct impact of prices could be seen on an average by a week- to a week-and-a-half, compared to two- to two-and-a-half months now.
"The Domestic Trade and Consumer Affairs Ministry will continue to conduct business involvement, besides establishing cooperation with related parties, ministries and agencies to ensure consumer rights are maintained and industry interests are balanced," he added.
Read also:
Price of bottled cooking oil expected to drop soon, says Nanta