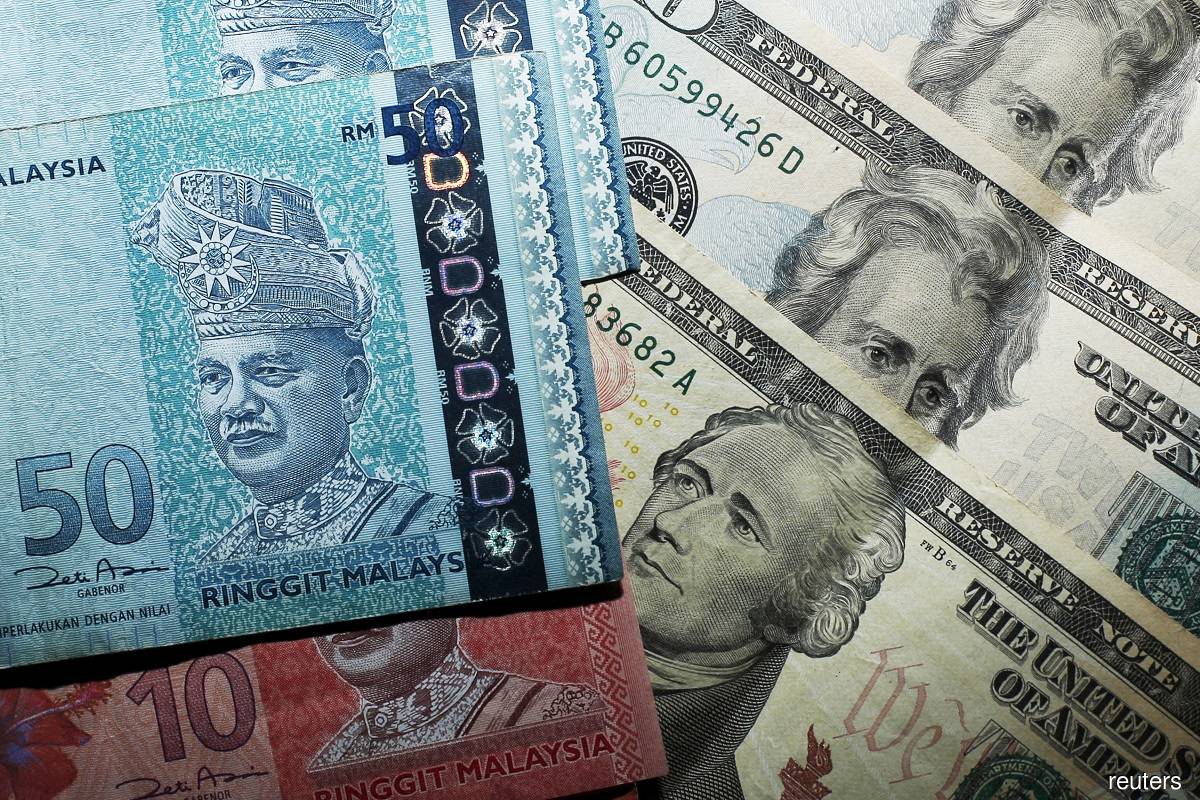 KUALA LUMPUR (Dec 7): MIDF Amanah Investment Bank Bhd's research arm MIDF Research said on Tuesday (Dec 7, 2021) the ringgit is expected to appreciate to RM4.09 against the US dollar by the end of 2022 against a confluence of factors including inflationary pressure amid elevated crude oil prices and as consumers and businesses increase spending in view of Malaysia's better economic outlook on Covid-19 vaccination progress.
In a statement issued to reporters covering the "MIDF 2022 Market Outlook Presentation" event here, MIDF Research said that as the Malaysian economy is anticipated to recover from the impact of pandemic-driven movement restrictions and as inflationary pressure is seen returning, MIDF Research also expects Bank Negara Malaysia (BNM) to hike the Overnight Policy Rate (OPR) by 25 basis points in the second half of 2022.
"For 2022, we opine the continued recovery in the domestic economic activities to continue as both consumers and businesses will increase their spending in view of a better outlook. The government's spending will also contribute positively to growth, given the expansionary Budget 2022 and record high allocation for development expenditures.
"In addition, the continued growth in external demand will continue to support Malaysia's foreign trade activity. Overall, we forecast Malaysia's economy to grow stronger at 6% in 2022. Meanwhile, the ringgit is expected to appreciate against the US dollar, to RM4.09 to US$1 by the end of 2022.
"Inflation is anticipated to be at 2.1% year-on-year," MIDF Research said.
MIDF Research said it expects commodity prices to remain elevated despite prices normalising in tandem with global economic recovery from the pandemic's impact.
"We forecast Brent crude oil price to average at US$75-US$80/barrel and crude palm oil [price] to average at RM3,300 a tonne," MIDF Research said.
MIDF Research said it remains sanguine about the prospects of the Malaysian economy and equity market in 2022 although the research firm recognised several downside risks which may spill over into 2022 and disrupt global economic growth's outlook.
"Although we are sanguine about the prospects of recovery next year (2022), we are cognisant that several issues seen this year might spill over into 2022, causing some possible negative impacts. These include: (1) the recent discovery of a new variant of Covid-19 i.e. Omicron; (2) incessant inflationary pressures; (3) pullback in China's property market; and (4) possible 15th general election in Malaysia.
"In our base case scenario, these issues will lead to some disruptions in the economic recovery, even though the occurrence of any of these events, either in isolation or in combination, will not derail the recovery process. Having said that, the possibility of these events turning out worse than expected cannot be discounted given our experience this year. Therefore, investors need to be ever vigilant of the possible downside risks next year," MIDF Research said.
After many false starts in 2021, Malaysia's economy has begun its recovery process, helped by the Covid-19 vaccination progress, according to MIDF Research.
"Whilst the expected recovery this year was delayed due to resurgence of Covid-19 cases caused by the Delta variant, the situation faced this year has been very much different from the one faced last year (2020).
"One key difference is the discovery and availability of the [Covid-19] vaccine. The country's high vaccination rate has allowed the government to reopen the economy and restart the recovery process after numerous and prolonged lockdowns," said MIDF Research, which indicated that its FBM KLCI target for 2022 is 1,700 points.
For 2022, MIDF Research has listed several baseline scenarios on which the research firm's Malaysia forecasts are based.
MIDF Research said its baseline scenarios include one in which the country's liquidity situation remains ample but with the monetary policy on a moderately tightening path.
Another baseline scenario takes into account the upsurge in Covid-19 cases which could lead to the reimposition of some containment measures but not nationwide lockdowns due to the high level of vaccination rate in the country.
"We expect the emerging virtuous dynamics in the real economy would eventually be mirrored in the financial economy. We believe that these factors will affect investors' sentiments positively, leading to better performance of our equity market, and also of our regional peers," MIDF Research said.
At Bursa Malaysia on Tuesday, the 30-stock KLCI rose 9.45 points or 0.64% to 1,492.9 as at 4.19pm.
In currency markets, the ringgit appreciated to 4.2297 against the US dollar at the time of writing.
The exchange rate so far on Tuesday was between 4.2277 and 4.2355.
Over the last one year, the exchange rate was between 3.9957 and 4.2483.