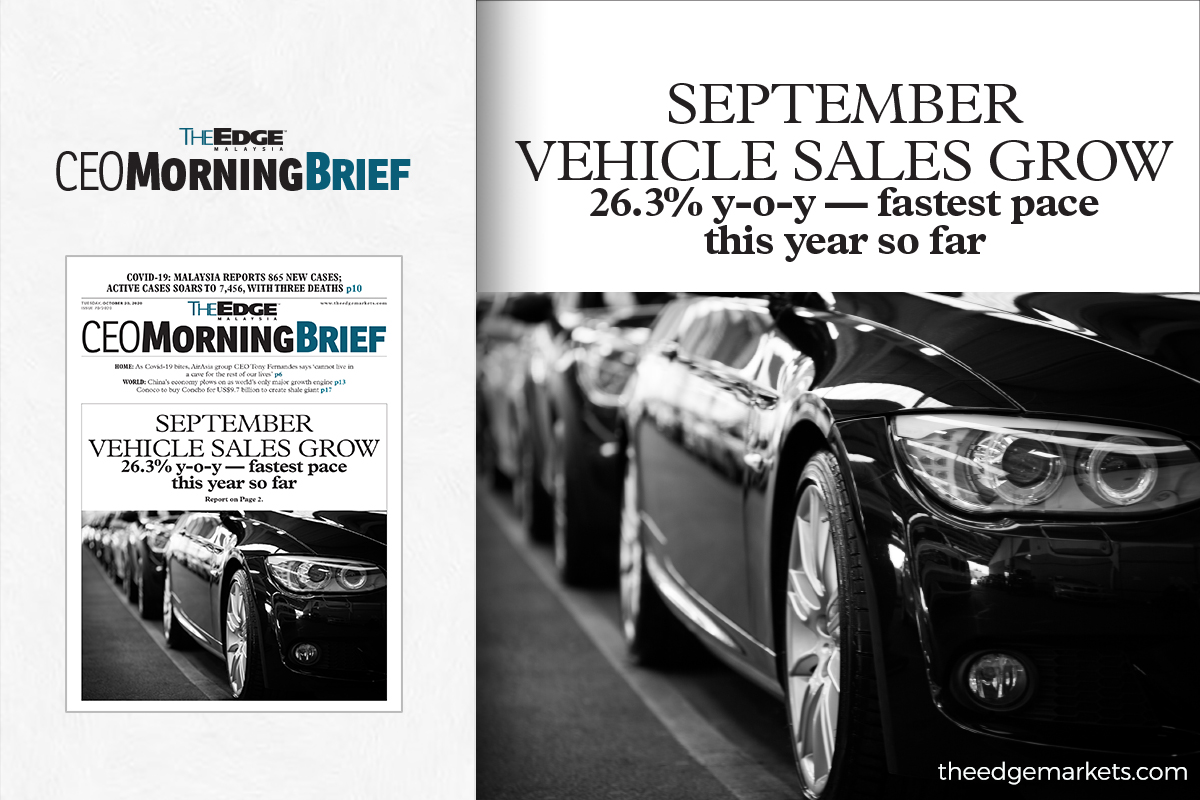 KUALA LUMPUR (Oct 19): Promotional activities by manufacturers helped lift Malaysia's vehicle sales by 26.37% — the strongest growth registered so far this year. Malaysians bought a total of 56,444 units of vehicles in September, compared with 44,666 units in the same month last year, according to the Malaysian Automotive Association (MAA).
The September figure was also higher by 7% when compared with August's 52,800 units, and is the second-highest monthly sales figure recorded so far this year, MAA said in a statement.
Passenger vehicle sales accounted for 51,422 units during the month, while commercial vehicle sales stood at 4,399 units.
Year to date, total vehicle sales stood at 341,489 units, down 22.91% from the 442,985 vehicles registered in the corresponding nine months last year.
In terms of production, September saw an increase of 15.26% to 51,987 units, compared with 45,101 units in September 2019. Year to date, total vehicle production fell 25.79% to 315,863 units, from 425,653 units in the same period of 2019.
According to the association, the rise in sales in September was due to greater promotional activities by car manufacturers and the higher production during the month.
An analyst who spoke on condition of anonymity said the rise in September sales was not much of a surprise considering the new model launches during the month.
"There were new models coming in — namely volume generative models — that helped bring up sales," he said.
The analyst added that many car manufacturers also brought forward their planned end-of-the-year promotions to September.
Lower sales seen for October
The current Conditional Movement Control Order in Sabah, Labuan, Selangor, Kuala Lumpur and Putrajaya, along with the cautious consumer sentiment following the end of the loan moratorium on Sept 30, is likely to result in lower sales in October compared with September.
The analyst, however, noted that there has been a recovery in vehicle sales since the height of the pandemic earlier this year, expecting the October sales volume to stay around 50,000 units.
"There is a recovery taking place at the moment in the sector. If sales can continue at the levels seen in September, the industry should be able to meet its targets and [analysts' expectations]," he said.
While many consumers would be reticent about making big ticket purchases in the current economic environment, the analyst said the rise in sales volume seen since June has been fuelled by the sales and services tax (SST) exemption placed on both completely built-up (CBU) and completely knocked-down (CKD) units.
Until Dec 31, SST for CKD vehicles is completely exempted, while CBU vehicles enjoy a 50% exemption.
The MAA's current total industry volume forecast is 470,000 units. This is significantly lower than the initial projection of 607,000 units in January, but higher than the revised projection of 400,000 announced in April.