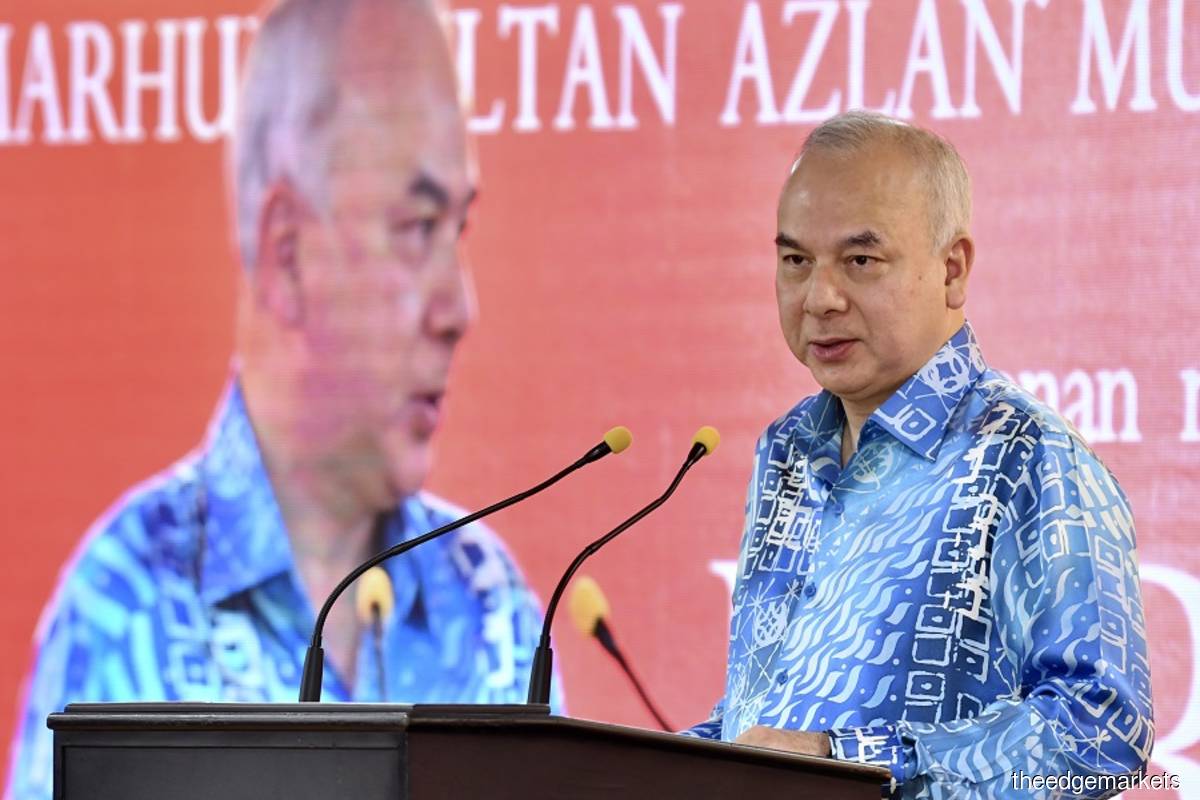 KUALA LUMPUR (Sept 22): The Sultan of Perak, Sultan Nazrin Muizzuddin Shah ibni Almarhum Sultan Azlan Muhibbudin Shah today called for all Malaysians, especially the Malay-Muslim community, to not take the issue of corruption lightly, or choose to be in denial about the state of corruption in Malaysia.
While addressing the launch of a book titled Corruption and Hypocrisy in Malay Muslim Politics — the Urgency of Moral-Ethical Transformation by Emeritus Professor Tan Sri Dr M Kamal Hassan, Sultan Nazrin said "corruption is a 'disease' within society, a cancerous outbreak. A disease that spreads little by little, enervating an organisation's 'organs' one by one, until the organisation is paralysed and becomes fatal if allowed to further spread without immediate 'chemotherapy' treatment".
"A disease can be treated only if the patient acknowledges that his/her body is infected with a disease, ready to allow the body to be diagnosed, examined and evaluated, open to advice, warning, prescription, and more importantly, prepared to receive treatment even if compelled to swallow a bitter pill, so to speak.
"Therefore, we cannot take it lightly, be complacent and choose to be in denial, conceiving all kinds of justification, performing mental acrobatics in order to deny the existence of the corruption 'elephant' that is vividly (clearly) happening in front of our eyes (in our country)," he said.
Sultan Nazrin said that an honest assessment of corruption should be mandatory — sincere and objective — based on facts, as proof that the country is truly serious in fighting and combating even to the point of totally eliminating it.
"We are obligated to be bold in acknowledging the ongoing reality of corruption that has reached critical and dangerous levels, based on the repeated warnings contained in the Auditor General's Report and various findings of the Public Accounts Committee," said the Perak sultan.
He continued by saying that the attitude and response towards the issue of corruption will determine whether or not it is to be addressed with real determination, or merely empty rhetoric that is devoid of, or not accompanied by, meaningful action.
"A responsive attitude that urgently acts to correct and rectify will not only address the abuse of power and poor governance, but also heighten confidence and trust by the rakyat in the government," said Sultan Nazrin.
He added that a wilfully blind attitude to combating the scourge of corruption will only result in enabling corruption to grow in strength until it becomes internalised as an accepted part of culture, leading to the destruction of the nation.
"There have been people who are willing to conspire, collude and commit evil and engage in lies and deception, because they forget that the source of sustenance, power, rank, and position comes from Allah, The Most Glorified, The Most High.
"Wealth, power, rank, and position are actually a gift and also a test from God. Be aware! Sources of power obtained through corruption (e.g. bribery) are not guaranteed to be accompanied by loyalty.
"The true nature of a person will be revealed when a person gets (i.e. tested with) a position and power, where what is necessary to be said may be withheld, the right tone may be quickly (and conveniently) changed with a different angle and rhythm to suit their self-serving endeavours, even to go as far as saying what is clearly black as white, and white as black," he said.
Mosques in Perak to complete Friday sermons with two new supplications addressing corruptions
As the head of Islam in the state of Perak, Sultan Nazrin has also ordered every mosque in the state to complete the sermon at every Friday prayer with two supplications, praying for God to strengthen the Muslims' faiths to avoid treacherous acts such as the misuse of properties, giving and accepting bribes, and abusing power for personal gains; and for God to keep the Muslims away from being among people that ignore the responsibilities that come with what has been entrusted upon them.
The supplication would also ask for God to save the nation from destruction due to corruption, entrust the responsibility of leadership and management of the country to those who are trustworthy and sincere, as well as firm and courageous in upholding the truth and implementing justice based on what has been decreed.
The Sultan also calls for more murabbis — one who is not only knowledgeable and wise, but also pious, kind and considerate, as well as a person who combines a life of learning with a life of virtue — to come forward to boldly echo the message of fighting corruption.
These special teachers play a very important role in educating and nurturing spiritual and moral awareness, he said.
"The murabbis needs to emphasise the importance of the ummah (the whole community of Muslims bound together by ties of religion) having sincere qualities, because the ummah who is sincere will not be able to be swayed, deceived, or influenced by the devil," said Sultan Nazrin.
Read also:
Sultan Nazrin says at book launch: Corruption in Malaysia at dangerous levels, orders mosques in Perak to speak out against abuse of power for personal gains at Friday sermons