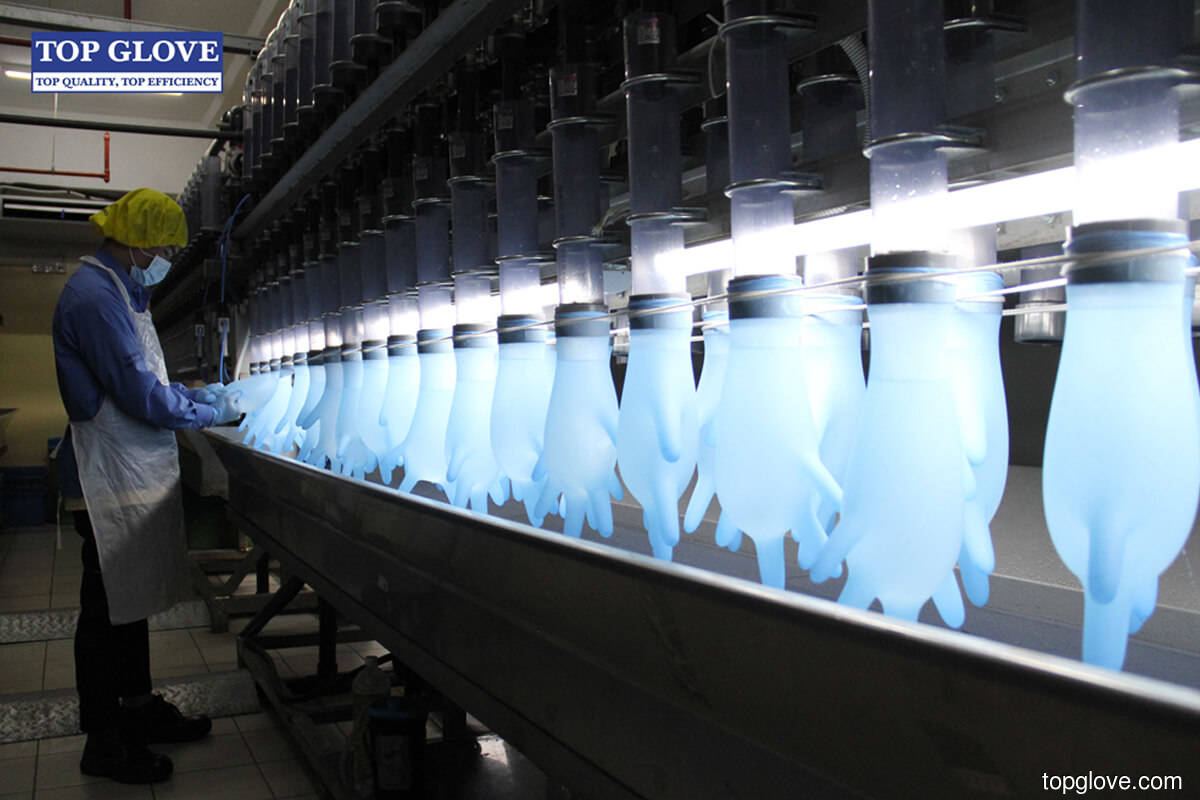 KUALA LUMPUR (Oct 7): Top Glove Corp Bhd is halting its dividend payout to preserve cash holdings, after its plant utilisation (PU) rate declined from 52% in the second quarter ended Feb 28, 2022 (2QFY22) to 35% in 4QFY22, amid low average selling prices (ASPs) and competitive glove prices from China.
AmInvestment Bank in a note on Friday (Oct 7) said that Top Glove told analysts at a briefing that its end-customer rubber stock had peaked at six to seven months, and stock replenishment activity by mid-2023 (4QFY23) is expected.
However, the report added that the decline in the PU rate from 2QFY22 to 4QFY22 was "counter-intuitive".
The declining PU rate was attributed to smaller rubber glove makers exiting with low ASPs.
Top Glove stated that the ASPs for nitrile and latex rubber gloves were still declining — by US$0.50-US$1 per 1,000 pieces — consistent with the month-on-month decline since July-August.
However, the overall ASP was maintained at US$24 per 1,000 pieces in September, and AmInvestment Bank reported that a 5% increase in the ASP could bring Top Glove's October ASP to US$25 per 1,000 pieces.
The break-even PU rate for Top Glove is 60%.
"We believe that the group could be making a September net loss of RM5 million to RM6 million.
"For FY23, we expect losses could continue in the first three quarters at a decelerating momentum, and break even by 4QFY23, when restocking activity emerges," said AmInvestment Bank.
Meanwhile, China's nitrile gloves offer a 25% discount to Malaysia's ASP of US$20 per 1,000 pieces in September — at US$15 per 1,000 pieces.
AmInvestment Bank added that such a material discount could allow Chinese glove makers to secure higher market share from Malaysia, and keep Malaysian PU rates low over the next three quarters.
It said Malaysia's share in the global rubber glove export market had declined to 51% in 2022, from 64% in 2019, while China's market share increased to 20% in 2022, from 9% in 2019.
Coal as a fuel enables Chinese players to generate profit, while Malaysia's use of natural gas to produce gloves is double the cost of coal.
Fuel cost accounted for 12% of Top Glove's total production cost in FY22.
Nonetheless, AmInvestment Bank maintained "hold" on Top Glove, with its fair value maintained at 60 sen per share.
At the time of writing, Top Glove had declined three sen or 1.44% to 64 sen, with a market capitalisation of RM5.29 billion.