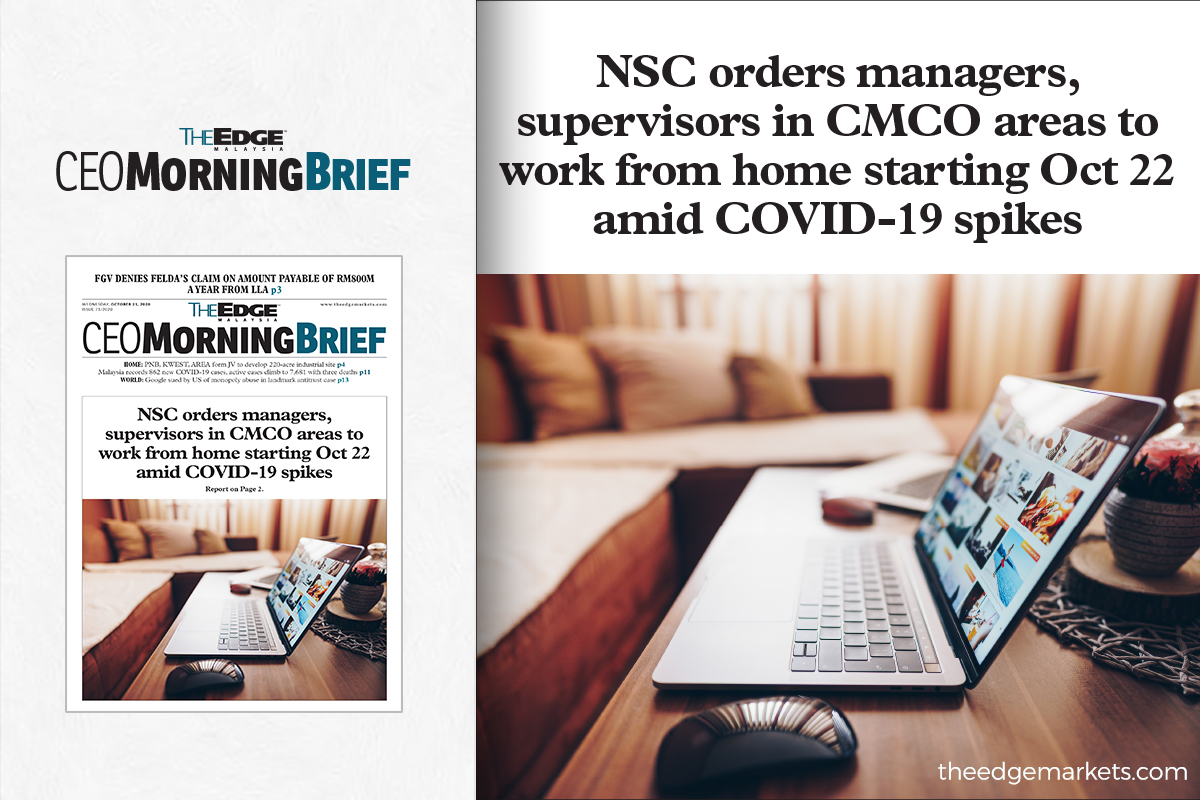 KUALA LUMPUR (Oct 20): As Malaysia battles a third COVID-19 wave, the National Security Council (NSC) has instructed managerial and supervisory-level employees in areas placed under the Conditional Movement Control Order (CMCO) to work from home from Thursday (Oct 22) onwards.
During his daily briefing, Senior Minister (Security Cluster) Datuk Seri Ismail Yaakob said the NSC made the decision at a special session today on the advice of the Ministry of Health, as it seeks to limit the movement of employees in a bid to arrest the spread of the coronavirus.
The latest edict is expected to affect around a million employees in both the public and private sectors across Putrajaya, Kuala Lumpur, Selangor, Sabah and Labuan, where lockdown rules are in effect.
According to Bernama, he said: "This is now a directive and no more a request. Employers have been told to issue letters for these employees to work from home."
While the directive appears to acknowledge public calls for tighter movement restrictions to flatten the curve of infection, why it is limited to supervisors and managers is unclear.
Ismail Sabri said the work-from-home ruling will expire once the CMCO is lifted; while it is slated to end on Oct 27, the senior minister was quoted by Bernama as saying that the Government is assessing the need to impose the stricter Movement Control Order (MCO) on areas currently under CMCO.
The order comes after four straight days of Malaysia posting over 800 new COVID-19 infections — including 871 cases on Oct 18, the highest to date.
Total cases rose to 22,225 today while active cases reached a fresh high of 7,681.
In a span of 14 days since Oct 7, total cases have jumped by 39.23% or 7,261.
Ismail Sabri said exceptions will be made for workers who need to be at their offices to perform their duties, but if they live in a red zone (area with over 40 active COVID-19 cases), then they will be required to take a swab test.
"Among those that need to work in the office include the finance division and those who need to make payments. Those who work in enforcement and welfare also need to continue working and they will need to do swab tests as well," he said, adding that foreigners employed as construction workers and security guards in CMCO areas will also need to be tested.
The Social Security Organisation (Socso) will bear the cost of tests if their employers contribute to the organisation.
He did not offer further details; according to him, the Ministry of International Trade and Industry will release a statement on the directive soon.