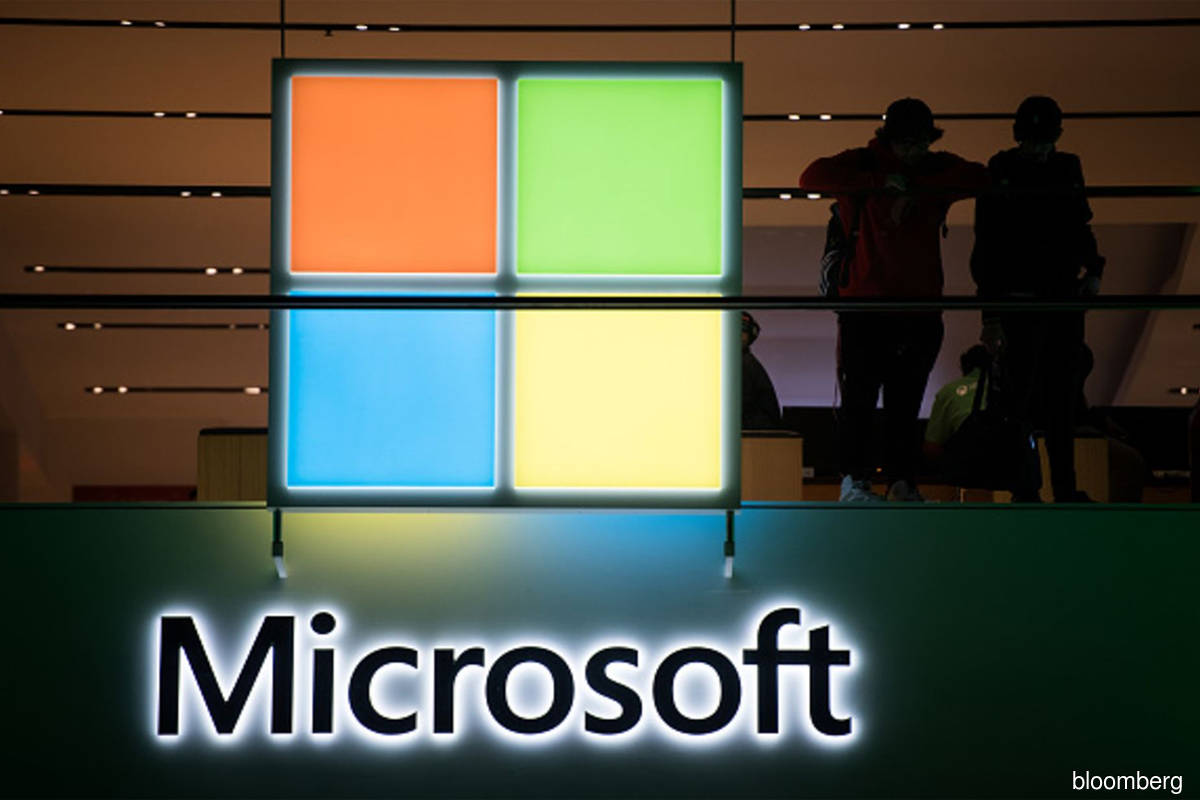 (Jan 25): Microsoft Corp said revenue growth in its Azure cloud-computing business will decelerate in the current period, and warned of further slowdown in corporate software sales, fuelling concern about a steeper decline in demand for the products that have driven its momentum in recent years.
Shares erased earlier gains in late trading after chief financial officer Amy Hood said Azure sales in the current period will slow by four or five points from the end of the fiscal second quarter, when gains were at a percentage in the mid-30s. That business had marked a bright spot in a lacklustre earnings report for Microsoft, whose other divisions were held back by a slump in sales related to personal computer software and video games.
Shareholders earlier sent the stock up more than 4%, encouraged by signs of resilience in Microsoft's cloud business, even in a weaker overall market for software and other technology products. The company's downbeat forecast brought the focus back to the software giant's challenges, as corporate customers hit the brakes on spending. Revenue growth of 2% in the second quarter was the slowest in six years, and Microsoft last week said it's firing 10,000 workers.
Earlier on Tuesday (Jan 24), the company said adjusted profit for the period ended Dec 31 was US$2.32 (RM9.91) a share, while sales rose to US$52.7 billion. That compared with average analysts' projections for US$2.30 a share in earnings and US$52.9 billion in revenue, according to a Bloomberg survey. Excluding currency impacts, Azure revenue gained 38% for the full quarter, slightly topping analyst predictions.
Microsoft said it recorded a charge of US$1.2 billion, or 12 cents a share, in the latest quarter, with US$800 million of that related to the job cuts, which will affect less than 5% of its workforce. The Redmond, Washington-based company said last week the charge will include severance, "changes to our hardware portfolio", and the cost of consolidating real estate leases.
The company's shares declined about 1% after executives gave their forecast on the conference call. Earlier, they rose to as high as US$254.79, after closing at US$242.04 in regular New York trading. The stock dropped 29% in 2022, compared with a 20% slide in the Standard & Poor's 500 Index.
After years of double-digit revenue gains fuelled by Microsoft's accelerating cloud business, and robust growth during the technology spending spree of the Covid-19 pandemic, chief executive officer Satya Nadella acknowledged that the industry is going through a period of deceleration and will need to adjust.
"During the pandemic, there was rapid acceleration. I think we're going to go through a phase today, where there is some amount of normalisation in demand," Nadella said in an interview at the World Economic Forum in Davos, Switzerland earlier this month. "We will have to do more with less — we will have to show our own productivity gains with our own technology."
Azure has been Microsoft's most closely watched business for years, and has fuelled a resurgence in revenue since Nadella took the helm in 2014 and oriented the company around the burgeoning cloud-computing market, where it competes with Amazon.com Inc, Alphabet Inc's Google and others. Now Microsoft is turning to artificial intelligence applications to fuel more Azure demand. Revenue from the Azure Machine Learning service has more than doubled for five quarters in a row, Nadella said. 
Even as Microsoft looks to cut spending on personnel and real estate, the company will continue to invest in long-term opportunities, Hood said in an interview. As part of its focus on artificial intelligence, Microsoft said on Monday it will step up its stake in OpenAI, with a person familiar with the matter saying the new investment will amount to US$10 billion over multiple years.
"We fundamentally believe that the next big platform wave is going to be AI," Nadella said on Tuesday. "And we strongly also believe a lot of the enterprise value gets created by just being able to catch these waves, and then have those waves impact every part of our tech stack, and also create new solutions and new opportunities." He said it's too early to start quantifying what that will mean for Azure demand.
The software maker also plans to continue spending to expand the data centres that deliver cloud services.
That spending "is dictated both by near-term and long-term cloud demand", Hood said. "Given that we continue to see such strong demand for cloud, you'll continue to see us spend on capital." On the call with analysts, she forecast capital expenditures to increase in the third quarter.