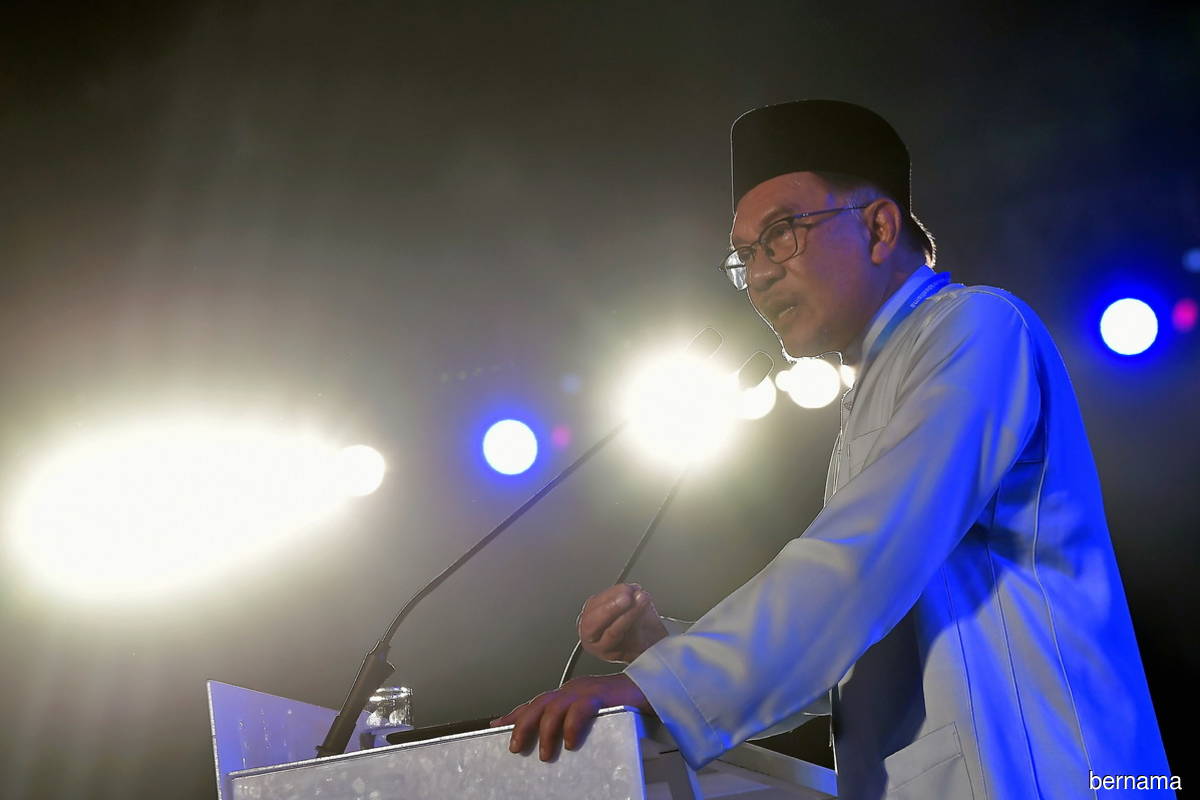 SHAH ALAM (March 18): Prime Minister Datuk Seri Anwar Ibrahim has given an assurance that he will not be unjust towards anyone, including opposition leaders, in the fight against corruption.
The PM said he had gone through very difficult times, when he was not in the government, and thus would not resort to victimising and slandering any quarters.
"At this age, I want to take my bitter experience as a reminder and lesson to avoid inflicting cruelty on anyone, including opposition leaders. But don't cook up excuses to give the impression that leaders of opposition parties should not be charged," he said.
The PKR president said this in his winding-up speech at the Special PKR National Congress 2023 themed "Malaysia Madani, Implementation of Idealism" at Stadium Malawati here on Saturday (March 18).
He said since being appointed as the PM, his priority is not to charge anyone, but to rectify the flaws in the country's system, so that Malaysia could regain its shine.
For this, the Malaysian Anti-Corruption Commission, the Attorney General's Chambers and the judiciary need to be rejuvenated as independent bodies with integrity, he said.
He said corrupt people should not be protected, because their actions had damaged the country and affected its drive for development.
"Sometimes during discussions with enforcement bodies, I just did not know where to start. Every file had problems. That's why we were baffled when such matters (fighting corruption) were not supported by people professing the Islamic spirit, the Malays, or those who love the country," he added.
Anwar, who is also the finance minister, said if the system is not cleaned up, it would cause more leakages, and to prevent this, the unity government would remain firm about combating corruption and implementing good governance.
"If state or federal Yang Berhormat (elected representatives) are found to be involved in corruption, don't come to me. It's not my work to protect the corrupt, including [those] from PKR itself."
"But it's not fair to say we practise favouritism. These people were protected, because at that time, they had power. Many people know and these are not new cases. The problem is some people talk about religious affairs, but know nothing about matters of the state. That's why I say the first matter is about governance," he said.
The PM said he does not wish to engage in any politics of enmity, including with PAS, which had previously worked with PKR.
"PAS was a team with us. Different leaders definitely will have different narratives. The previous leaders were firm on the question of corruption and irregularities. The way they are attacking us now is beyond the ethical and moral limits. When we reply, we are said to be against Islam, and said to be attacking ulama," he added.
Meanwhile, Anwar also announced an additional allocation of RM150 million for tahfiz schools and pondok institutions registered with the Department of Islamic Development Malaysia (Jakim).
He said the government could afford to do this, due to national savings made in checking leakages and irregularities.
Anwar gave an assurance that any increase in national revenues, such as through tax collection, would not be for the benefit of leaders, but channelled back to help the people, especially farmers, rubber smallholders and the poor.
He also said it is compulsory for all leaders of PKR to join Koperasi Keadilan Bhd (Kira), which was launched on Saturday, to look after the welfare of its members.
Read also:
Rafizi: Unity govt inherited a 'damaged house'
Haj: Govt to bear cost increase for B40, says PM
PH to focus on seizing Kedah in state election, confident of retaining N Sembilan, S'gor and Penang
Not bowing to threats to topple unity govt — PM
Anwar lambasts leaders who 'fool the people'
Flood mitigation retendering allows govt to implement more projects, says PM
Anwar confident unity govt will stay strong