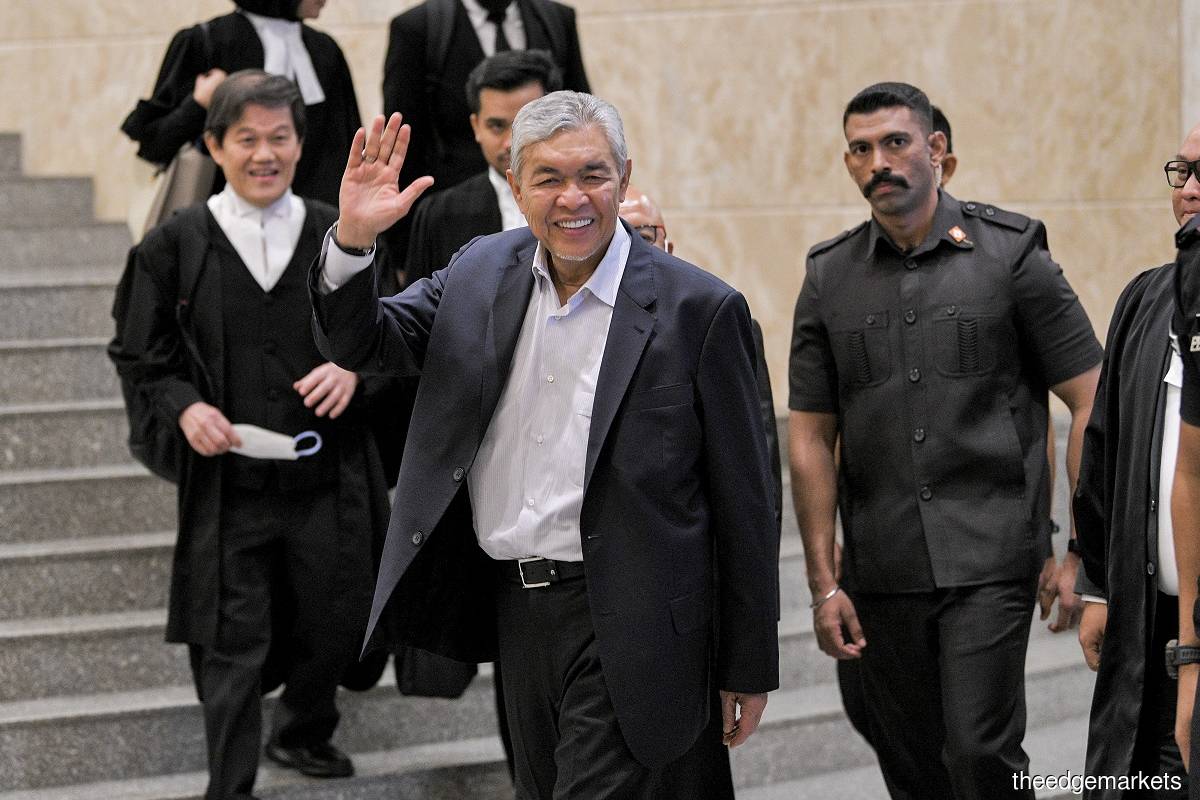 PUTRAJAYA (March 27): The Court of Appeal (COA) has allowed Deputy Prime Minister Datuk Seri Dr Ahmad Zahid Hamidi's application to have his personal and diplomatic passports permanently returned.
A three-member panel headed by COA judge Datuk Hanipah Farikullah allowed Zahid's application after going through the submissions and noting that there were no objections from the prosecution.
"The application for the passports to be released to him is allowed," she said.
The other judges on the panel were Datuk Ahmad Zaidi Ibrahim and Datuk Lim Chong Fong.
During the proceedings, Zahid was represented by counsel Hisyam Teh Poh Teik, and the prosecution was represented by deputy public prosecutor Abdul Malik Ayob.
Variation of Zahid's bail conditions, free to travel overseas
During the brief proceedings on Monday (March 27), Abdul Malik also informed the panel that he had instructions not to object to the application.
Speaking to reporters later, Hisyam said the appellate court's decision meant that it was a variation to Zahid's bail conditions.
"In other words, his bail is now RM2 million and no other conditions attached," he said.
Hisyam explained that the grounds in the application was that there was a change in circumstances following the last general election as Zahid was made DPM and needed the passport to perform his duties.
"It is also our submission that he is not a flight risk and he has appeared before court at all times," he said, adding that both Zahid and his bailor had given an undertaking in their affidavits that Zahid be at court.
Hisyam also said he could not confirm if this was the first of such a case.
Similar application at High Court dismissed early last month
The High Court is holding Zahid's passport as part of his bail conditions, pending the outcome of his corruption case. The trial at the defence stage resumes on April 10.
Zahid is facing 47 charges comprising 12 for criminal breach of trust, eight for corruption, and 27 for money laundering involving millions of ringgit from charitable foundation Yayasan Akalbudi.
Zahid, who is also the rural and regional development minister, had initially made a similar application to the High Court.
However, trial judge Datuk Collin Lawrence Sequerah had dismissed Zahid's application for the permanent return of his passport in order to carry out his official duties overseas with ease.
In his decision on Feb 3, Sequerah noted that all persons or accused are equal under the law. He said that although Zahid had official duties to carry out, the courts too had their duties to perform.
Sequerah added that the Umno president is still entitled to apply for the release of his passport to carry out his official duties when the need arises.
Read also:
Zahid files application to review High Court's decision not to permanently return passport, hearing set for March 27
High Court dismisses Zahid's bid for permanent return of passport, grants temporary release for diplomatic travel documents application